If you follow this site, it's no secret that I am a big Miami Dolphins fan. Being born in 1989 allowed me to catch the tail end of Dan Marino's career and see some of his famous comeback wins. Unfortunately, I also remember his embarrassing last game (62-7 loss vs Jags in the playoffs).
Marino is one of the greatest quarterbacks of all time. He was the first to throw for over 5000 yards in a season as well as the first to throw over 40 touchdowns in a season. However, he ultimately never got to experience winning the Superbowl.
There are tons of Dan Marino cards on the market that have been made from 1984 to today. Each year brings new variations of his cards long after he has retired. However, one card, in particular, is a must-have for any serious Marino collector. The one, true, Dan Marino rookie card.
1984 Topps Dan Marino Rookie Card
Of all the Marino cards out there, the 1984 Topps card #123 is the only recognized rookie card of his. Some hardcore Marino collectors also like the 1984 Topps Sticker as well as the Police issue card. However, the most sought after card (and most expensive) is the 1984 Topps Dan Marino rookie card.
Key Characteristics
Number: #123
Reverse Side: the backside of the card has a horizontal layout exhibiting Marino's stats from the 1983 NFL football season. It's worth noting that the re-print versions of this card have a different backside design.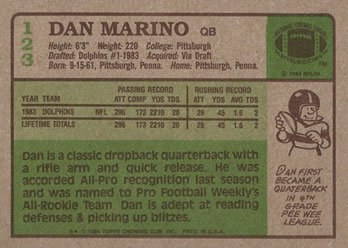 Condition Variations: This card (and this set in general) is known for having many issues with centering. The quality control on Topps' older cards is not as good as it is today. So it is harder to find a perfectly centered print of this card, making the value of a centered card much higher.
Dan Marino Rookie Card Value
If you're wondering how much your Dan Marino rookie card is worth, it's easy to find out. While most vintage sports cards typically are not worth much, the 1984 Topps set is worth a bit more. When searching for your Marino rookie, make sure you realize that, since 1984, the card has been reprinted. If you care about having an authentic original rookie card, be sure that you don't end up buying a reprint. Scammers on eBay sometimes try to pass off reprints as the original. Reprints are not worth nearly as much as the real thing.
The best way you can find out current prices is to check eBay for current auctions or recently sold. This gives you a realtime idea of what the market value is of the card. Keep in mind the grade of the card weighs heavy on the price. A PSA 10 is worth almost 10 times more than a PSA 9. That's a huge difference in price for a small change in condition.
PSA (Professional Sports Authenticators) deems the current market value as:
PSA 10 GEM MINT: $1250
PSA 9 MINT: $130
PSA 8 NM-MT: $40
Is Dan Marino The Greatest Of All Time?
Unfortunately, most sports fans will never consider Dan the man as a potential GOAT simply because he never won a Superbowl. Despite putting up numbers that were unheard of for his time and numbers that are even considered amazing by today's standards, Marino is not in the GOAT conversation. With that being said, he is in my book the greatest Dolphin of all time.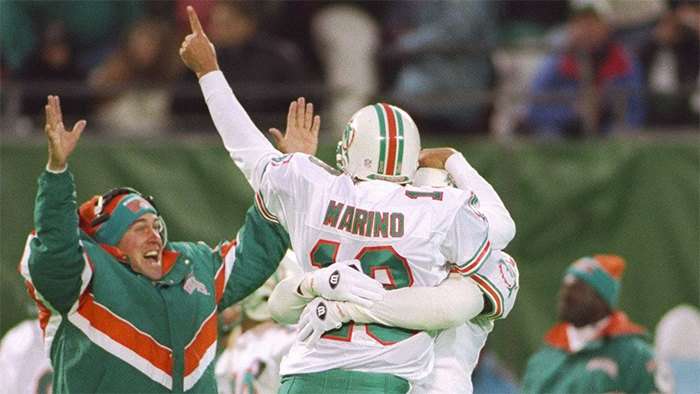 Marino had a natural throwing ability that allowed him to read defenses on the fly and connect with unbelievable accuracy. He was an excellent manager of time and crafted many game-winning drives. At the end of his 17-year career, Dan Marino had racked up over 61,000 yards and more than 400 touchdowns. Cap that all off with 9 Pro Bowl appearances.
Marino was a first-ballot hall of famer, inducted in 2005. Since Marino retired, the Dolphins have had a slew of different quarterbacks that have failed to live up to his legacy. In the 2020 season, the Dolphins drafted Tua Tagovailoa as their latest QB in hopes of him living up to the legendary Marino standard.
If you're a serious Marino fan, you need to get your hands on one of his rookie cards!