One of the hottest rookie picks in the 2020 NFL Draft this year was the number five overall pick, Tua Tagovailoa, who was selected by the Miami Dolphins. His first name is actually Tuanigamanuolepola, but we'll stick with Tua for short. Tua was a quarterback for the University of Alabama where he led the Crimson Tide to two National Championship Game appearances, one of which his team won.
Tua was born in 1998 in Ewa Beach, Hawaii. At the time of the Draft, he was 6 ft tall, 217lbs, and regarded as a short mobile quarterback with a high risk of re-injury to his previous hip injury that he sustained in college. Besides Joe Burrow, the Dolphins had the ability to take pretty much any quarterback they wanted at number five (Justin Herbert, Jordan Love, etc), but they went with Tua, and time will tell if that was the right choice.
Best Tua Tagovailoa Rookie Cards
Dolphins fans everywhere are praying that Tua is finally the replacement for Dan Marino that everyone has been waiting for all these years. Collectors who believe he's the one will be looking to invest in Tua rookie cards now before prices get insane. On this page, we've gathered some of the best rookie cards out so far at a varying range of prices.
2020 Tua Tagovailoa Rated Rookie Donruss #302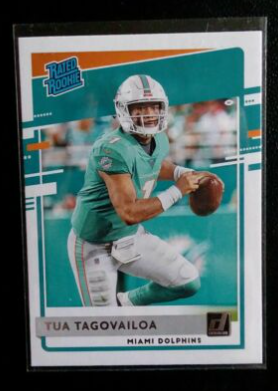 The 2020 Donruss Rated Rookie card for Tua is the standard base rookie card that all Dolphins or Tua fans should start with for their collection. It's the cheap, basic, no-frills card that's easiest to get ahold of and could become a classic card to own down the road.
As of August 2021, you can pick this card up ungraded on eBay for less than $20. With how Tua has been playing this preseason, and how the Miami seasons have been turning around, I expect this card to only get more expensive as time goes on. In fact, you should expect all Tua cards to get more expensive from here on out, regardless of whether or not they are rookie cards.
2020 Panini Donruss Tua Tagovailoa Downtown Holographic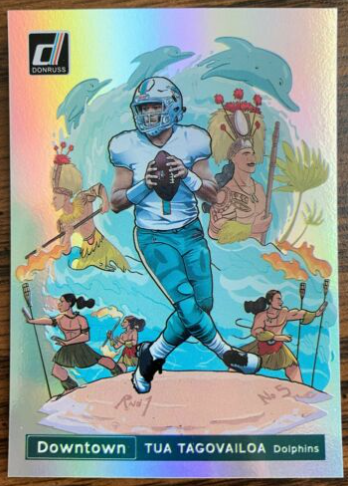 This card is a little bit riskier of an investment due to how expensive it is. As of August, it is still selling for over $1500 as a PSA 10 and over $500 ungraded.
The downtown series of cards is a crowd favorite for collectors and always seems to be on the higher end of pricing. While the price tag may look intimidating now, if Tua turns out how everyone expects him to, the investment can easily pay off.
To see current pricing for this card, click here to view current auctions on eBay. If you end up picking up this card, be sure to properly care for it to make sure your investment doesn't go to waste!
2020 Panini Chronicles Draft Tua Tagovailoa Downtown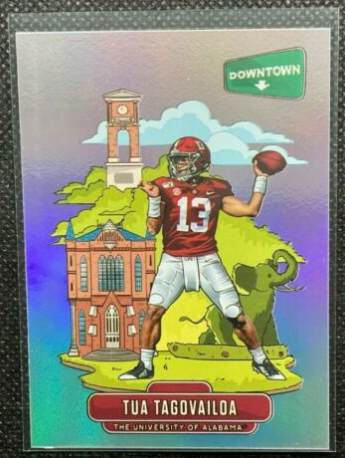 The college version of Tua's downtown card is significantly cheaper and might be the better option for collectors with a more thin budget. This card is especially awesome if you were also a fan of his during his time playing at Alabama.
As of August 2021, You could've snagged a couple PSA 9 versions of this card for about $300 on ebay. A PSA 10 recently sold for $411. You might think going raw is the better choice here but surprisingly a raw card went for $250. At that price, you'd be better off paying for the graded version in my opinion. That way you know for a fact what condition the card you are getting is in.
Keep in mind, all of these cards on here are just my favorite picks when it comes to Tua's rookie cards. The best part of the hobby is that you get to decide what you like and collect that. If you like a different version of his cards, you should pick one up!
Do you collect Tua rookie cards? What's a must-have card for Tua, in your opinion? Leave a comment below!