Have you ever tried to snap a picture of your favorite sports card only to realize that it seems like no matter the angle or technique you use, you can't avoid having glare in the photo? Talk about frustrating! This quick guide will help you with the various ways I have discovered to reduce or remove that pesky glare from your photos to get them looking as close to a professional level as possible.
Why Bother Removing Glare In The First Place?
If you haven't already, you should check out my guide for How To Take Better Product Photos for eBay. But, in short, you should care about removing glare from photos because the presentation is everything when it comes to this hobby. Assuming you are taking a photograph of your collection to either sell or show off, both of these reasons warrant showing the best quality image of your item that you can conjure up.
Collectors and buyers want to be able to see your refractor card shining, your crisp edges, serial numbers, etc. Your photo should instill the urge to buy (or be jealous of) your card.
My Tips For Removing Glare in Sports Card Photos
Here are some of the tips I've come up with over the years. If you have any of your own that I miss please feel free to share them in the comments below!
Play With Your Angles
I've found that how you angle the card, the camera, and the lighting greatly vary the results of the potential glare you will find in your photos. One big tip I can recommend is putting your card onto a card stand which will help by angling it back a bit. That tip alone tends to eliminate quite a bit of glare for me.
Use A Lightbox
Like I mentioned in the previous tip, angles can help quite a bit. This includes the angle of the lighting you are using and the type of lighting. While I have found a good bit of success using natural lighting and playing with the direction of the light source, I have found the most consistent success by using a cheap lightbox from Amazon.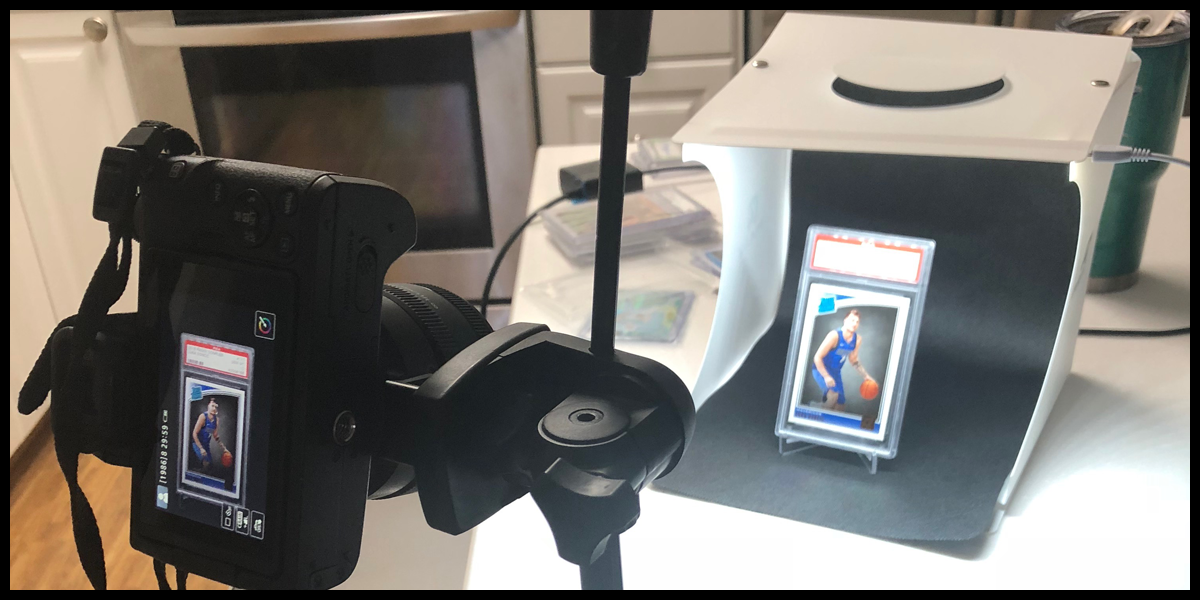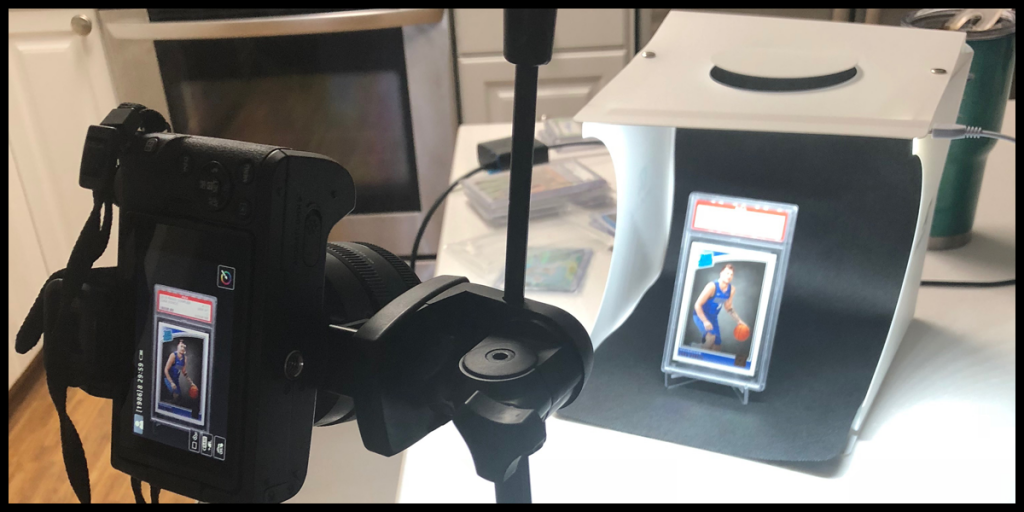 That cheap little lightbox controls both the background and the light for setting up a consistent environment for photographing your collection. It comes with a few different color pieces of felt that you can replace the background with. I like to throw my cards on a stand in the lightbox and sometimes throw the stand on a rotator as well to make cool little videos.
Scan Your Cards Instead
My last suggestion for eliminating glare from sports card photos is to simply not use a camera to take the photos. Investing in a Flat Bed Scanner for sports cards can be a great way to get true-to-life images of your collection. If you've ever bought cards or at least window shopped on COMC then you've seen what scanned sports card photos look like.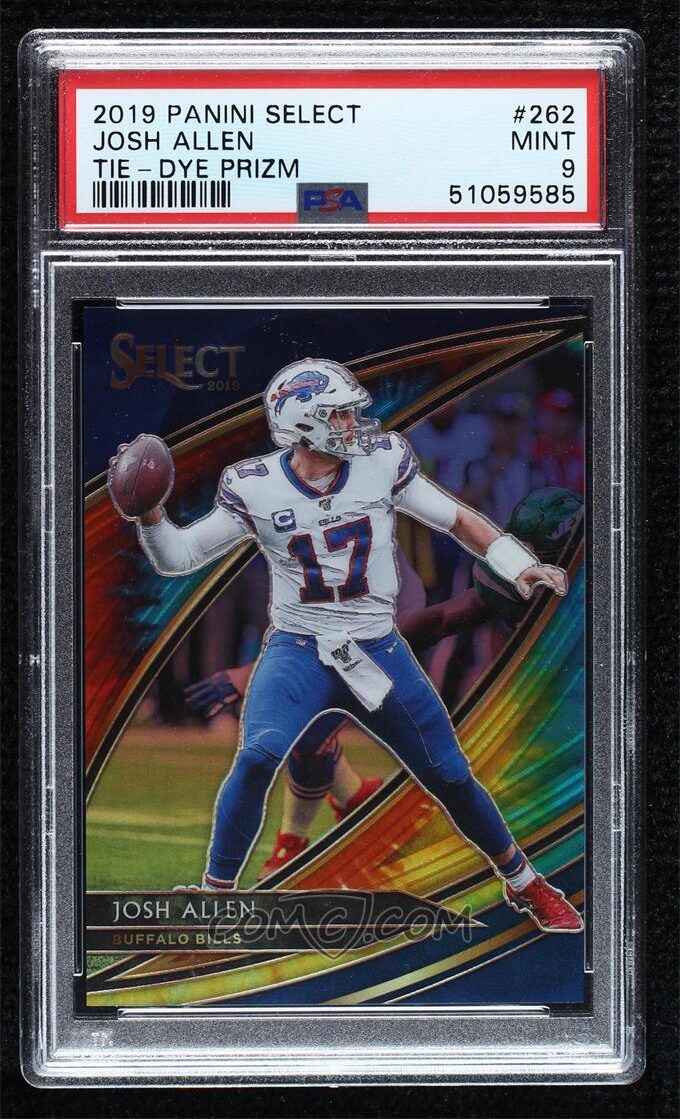 As you can see from the 2019 Panini Select Josh Allen DYE PRIZM card shown, a scanned photo can be a great way to accurately depict the condition of your collectible. The image was taken directly from COMC to show an example of scanned images.
The main drawback with scanning your sports cards, in my opinion, is that when it comes to refractor/shiny cards, you can't really see that they shine or "refract" at all. I think that is a drawback especially when it comes to drawing in buyers when selling your cards.
Other than that, a scanner can be a great reliable way to get easy images of your collection without having to worry about the glare. You'll want to make sure you get a flatbed scanner though. For some tips on scanning, check out my best scanner for sports cards guide on the website.
Other Resources To Improve Your Photos
DPReview.com – Website / Forum with plenty of general photography tips and articles to help you out with issues, questions, etc.
Peter Mckinnon's YouTube Channel – Peter McKinnon is an insanely popular youtuber who is also a photographer. He started out his YouTube channel giving out tips on photography, equipment, editing photos, etc. He's quickly blown up to over 5.5 million subscribers in a matter of years. I got a lot of great tips from watching his channel.
Expert Photography – Another great website full of useful articles giving tips on the different facets of taking great photos.
Do you have any tips for reducing or eliminating glare in sports card photos? Or, do you have any tips in general for taking great product photos? Please share them in the comments section!