How to buy sports cards on eBay is one of the first subjects you should quickly learn to master when beginning to collect sports cards whether for the first time or when getting back into the hobby. Understanding how eBay works, how to value cards you are looking to buy, knowing when to bid, etc are all things that can help you avoid overpaying for cards you want to collect.
eBay is by far the most popular platform for purchasing sports card whether it be singles, lots, or even hobby boxes/cases of product. In this guide, you'll learn how to value sports cards, how to avoid common scams, and general tips to ensure you get the best possible deal when shopping for cards.
First Thing's First… Know What You're Looking For
What does your card look like?
How many parallels are there?
What should the autograph look like (if there is one)?
Is the card numbered?
All of this may seem like common sense (it is), but you'd be surprised how often you can get sucked into a random card auction just from going to eBay and sorting by "ending soonest". Unless you have amazing impulse control, I highly recommend not randomly surfing auctions that are ending soon. Using eBay alerts, you can set up alerts for all of the cards/searches you want and then just wait for emails to let you know about new items for purchase.

Knowing what you're looking for also helps you avoid making simple mistakes. Ideally, you should know a lot of information about the card you are interested in and also the set it came from. I once ended up buying a non-autograph version of a card numbered to 10 because the auction was ending in less than 1 minute and I did not know there was a non-autograph version of this card. I was in too much of a rush to even notice the autograph not on the card (I know how stupid that sounds) so I ended up paying almost the price I would have for the autographed version.
Learn About The Seller
While you obviously can't hire a private investigator to stalk a seller and learn everything about them, you can get a general idea of whether or not someone is reputable pretty easily. Here are some things you can and should be doing to vet sellers.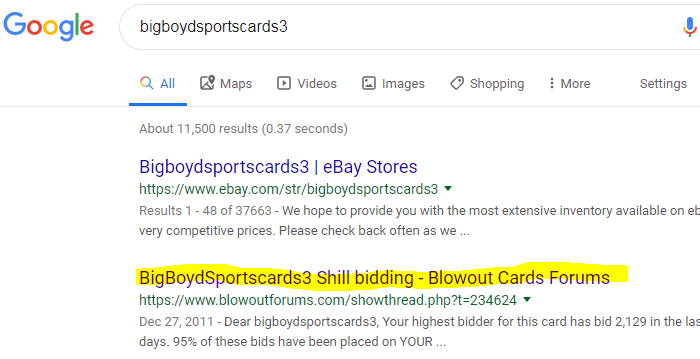 Google the seller's account name – Oftentimes scammers and shill bidders get called out in forums which results in forum posts ranking for sellers usernames in Google. Use this to find out about your seller.
Check the seller's feedback – If a seller has less than 100% positive feedback, read the negative and neutral feedback left by buyers. Sometimes buyers can be too nit picky and leave negative feedback for silly things. But most of the time negative feedback is a huge red flag.
Check the seller's other items for sale – This will give you a good idea of the type of seller/collector they are. If they mostly sell random junk from around their house and don't have many or any more card auctions, they're probably just a casual seller or collector. Depending on how you look at it, this can be a positive or a negative. For me, I assume they wont use a lot of the shipping best practices (blue painters tape, etc) that I appreciate from experienced sellers.
Ask them a question – Asking a seller a question can be a good way to gauge the character of the person, the speed of response, and to generally get a "warm fuzzy" feeling about buying from them.
How To Determine Your Max Bid
Ultimately, your max bid should just be the highest amount you are willing to pay. However, there are ways to narrow down how much you should be paying for any given card according to market pricing.
eBay search provides an awesome search option where you can filter your searches by completed and/or sold auctions only. Using this filter allows you to see what other similar auctions sold (or didn't sell) for so you have an idea of what "overpaying" is or what getting a great deal would be.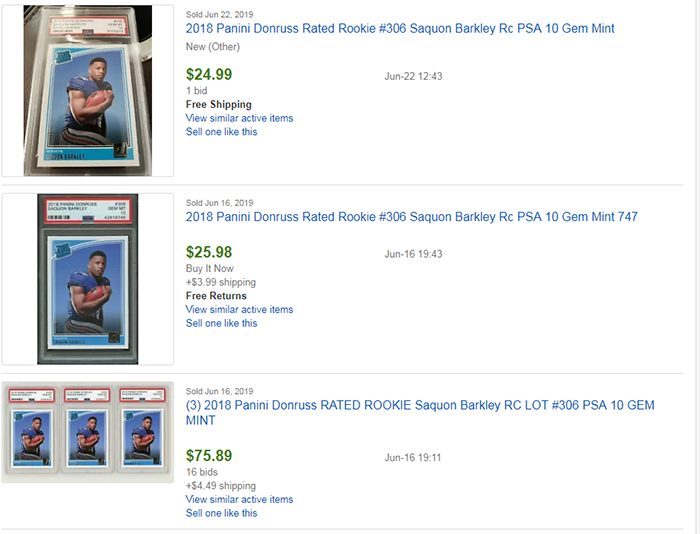 Keep in mind the dates of the auctions. You may notice cards trending upward or downward depending on the time of year. When to buy is something you should consider. Can you wait til a "down" time of the year?
Bidding Strategy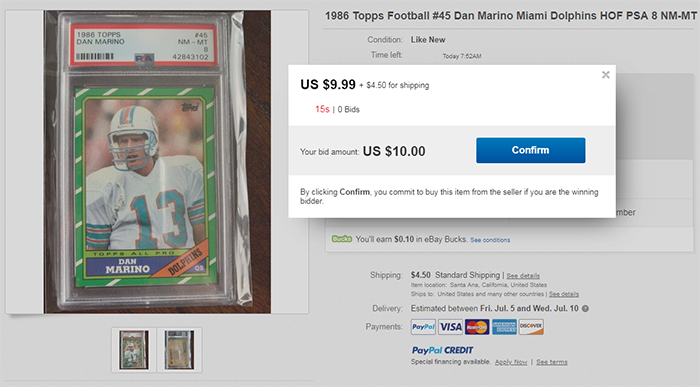 Due to the unfortunate popularity of shill bidding on eBay, I personally believe that the best way to bid is to not bid at all until the final 10-15 seconds of an auction. I'm even hesitant to follow auctions that I am interested in. I do not want to give the appearance that there is any interest in a card because that increases the risk of a shill bidder confidently bidding me up.
Avoid Common Scams and Red Flags
Sadly, eBay can be a breeding ground for scammers and dishonest sellers. For the most part, you will find good reputable sellers but you should always be alert to the fact that there are indeed shady people on the platform. Here are some common scams and red flags.

Avoid Aftermarket Autographs – Autographs that a seller claims were signed by the player after the card was released. These are next to impossible to verify and are often forged and fake signatures. Steer clear!
Bad or missing photographs – Poor quality photographs or missing photos can be a red flag that something is wrong with the card. If you're dying to get your hands on that card be sure to check the seller's return policy since you can't get a good look at the card through photos.
Re-print cards being passed off as original – This is a big one with older cards. Cards like 1984 Topps Dan Marino Rookie Card or the John Elway Rookie Card from the same set have newer re-print versions. Some sellers will conveniently "forget" to mention that they are selling the newer re-printed versions of the cards. Or they will mention it but asking price will be much higher than re-print should yield.
Avoid Cards Graded By Low End Companies – BGS and PSA have been proven to be the most trustworthy of the card grading companies out there. Outside of them, some people say SGC is a slight step below. Steer clear of slabbed cards graded by companies like GMA Grading or similar as they have been proven to not provide accurate grades.

Take Advantage of eBay Bucks
eBay bucks is a rewards program for purchasing items on eBay. Once you opt in, each purchase you make or auction you win rewards you with a small value of eBay bucks. You can later use these free rewards to purchase more items on eBay.
Ebay often has promotions that increase the percentage of eBay Bucks you get for a given purchase. I've seen rewards as high as 10% temporarily. This is typically the best time to purchase those higher end cards that you've had your eye on. Click here to sign up for eBay Bucks.
Be Patient
Being patient is important both in learning how to buy on Ebay effectively and to ensure you are not rushing into buying the wrong cards or cards you don't even really want that much.
Do you have any tips, tricks, or experiences with buying eBay that you could share? Leave a comment below!