Have you ever bought a new graded card online for your PC and then had it arrive only to find that the PSA or BGS slab the card is in was all scratched up or damaged from the previous owner not taking care of it? I have, and it's definitely a frustrating experience.
A few weeks ago I picked up a BGS 7.5 NM+ graded 1984 Topps Dan Marino Rookie card on eBay. I went with a 7.5 because I didn't have a extra $1k+ to throw down on a PSA 10 version of the card (maybe someday). I noticed in the auction photos that the team bag the card was in looked a little rough but I figured that the slab itself would be fine. I was wrong.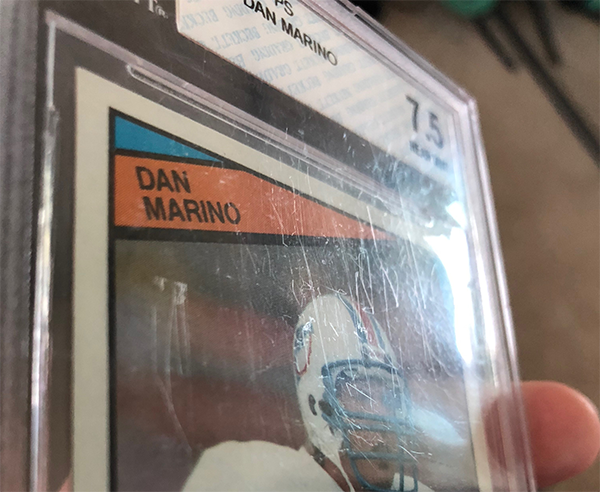 The vast majority of these scratches were very minimal but there was a lot of them. I had a hard time capturing them on camera because you really have to get the right angle to see the different scratches. So in person this card looked worse than the photograph even shows.
I did a ton of googling and found a ton of forum posts and articles where people were recommending everything you can think of including car wax. I ended up settling on…
NOVUS 2 Plastic Fine Scratch Remover
I picked up a bottle of this Novus 2 Plastic Fine Scratch Remover on Amazon having never heard of the product before. I searched amazon reviews and questions for anyone mentioning that they had used it on any sort of graded card case. No dice.
So I had pretty low hopes when ordering the product. But I figured at this point if I made the card any worse I might as well just have it regraded or reslabbed at that point. The amazon description claims that Novus 2 actually removes scratches instead of just filling in. So I'm assuming it has some sort of mild abrasive in the formula that sort of sands down the plastic.
Applying The Scratch Remover
At this point I feel it's necessary to mention that you should only attempt this (or any other sort of cleaning technique) if you are comfortable with possibly making your card worse or even ruining it. I am not responsible for what happens in your experiments!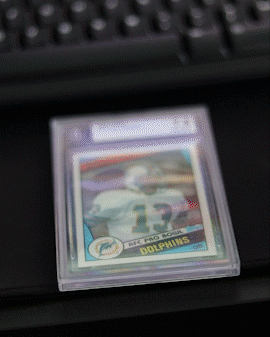 The instructions say to shake the bottle well first. After, you should wipe down your slab to remove any excess dust or debris. Next you should apply polish onto the slab, and then take a cloth (I used a microfiber) and apply in circles until dry. Once it has been rubbed in you can take a dry part of the cloth and continue to buff it to your satisfaction.
The Results Speak For Themselves
(UPDATE: Be sure to keep reading below for updated results of Novus 3 + Novus 2 together.)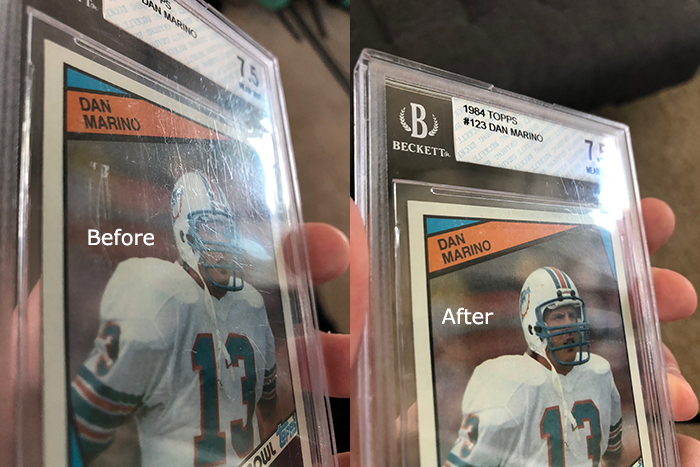 The result, while not perfect is much better than what I expected. I'd say 85-90% of the scratches are now completely gone. You can see in the photo on the right that some of the deeper scratches are still there. There's also a really bad scratch I wasn't able to remove on the lower right hand side of the card: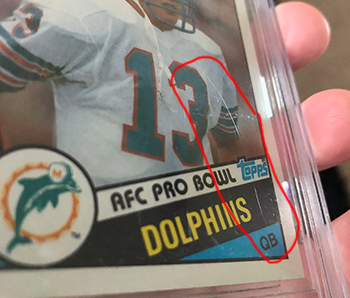 All in all, I am actually really impressed with the progress a simple application of this product made. So much so that I ended up ordering some Novus 3 solution which is supposed to be for deeper scratches. I'll update this post at a later date to share if I was able to make further progress on removing these scratches.
If your scratches are super deep and you're not afraid to really go hard on your slab, you might consider the techniques shared in this forum post. Just keep in mind that the post is about coin slabs and may not apply to BGS/PSA stuff. Always be sure you're willing to take the risk before doing something as drastic as sanding your slab!!
UPDATE: Novus 3 Results… WOW!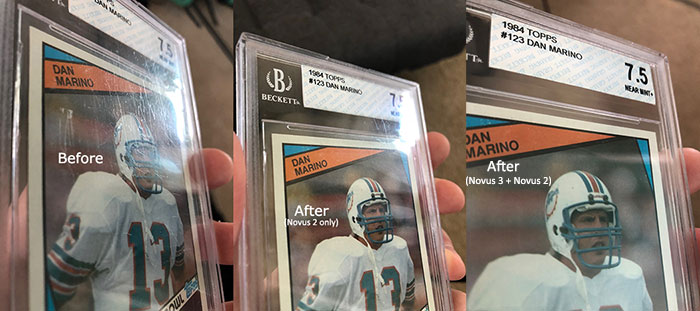 As you can see from the new results pic, the scratches are completely gone now. Even the super deep scratch on the lower half of the card.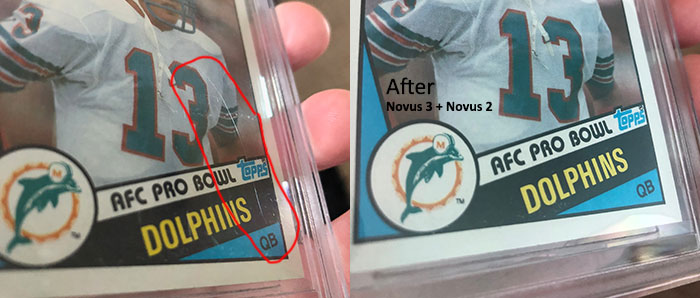 How To Use The Novus 3 Solution
After originally writing this post, I took the leap and ordered a $9 bottle of Novus 3 solution on Amazon to try and attack the remaining scratches that the Novus 2 bottle did not get.
I really didn't expect much, maybe a slight increase in progress. The directions for Novus 3 are slightly different in that you have to rub at a 90 degree angle to the scratch instead of small circles like you do with Novus 2.
After using Novus 3 you have to use Novus 2 again to polish it out and make it look nice. All in all the whole process took less than 10 minutes and my card looks brand new. Looking at it today I don't think anyone would be able to tell that this card was originally slabbed in 2001.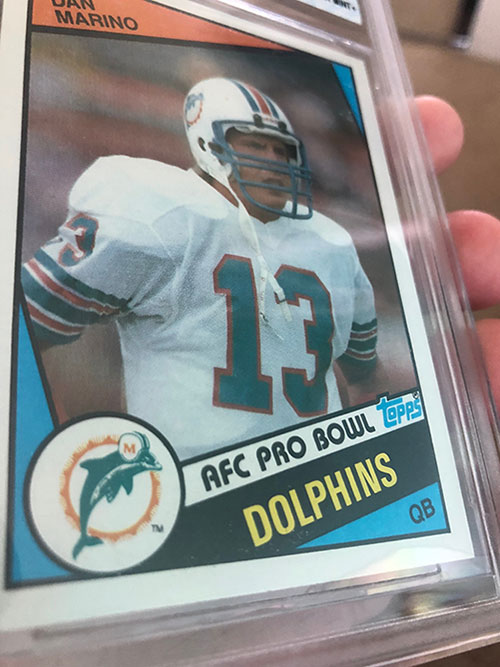 If you are looking to polish out or fix up any scratches in your slabs I would highly recommend the Novus system. While I personally did not use the #1 bottle (because I bought #3 and #2 separately), I'm sure it adds a great shine to your slab. And buying all 3 together is only $1-2 more expensive than buying #3 and #2 by themselves.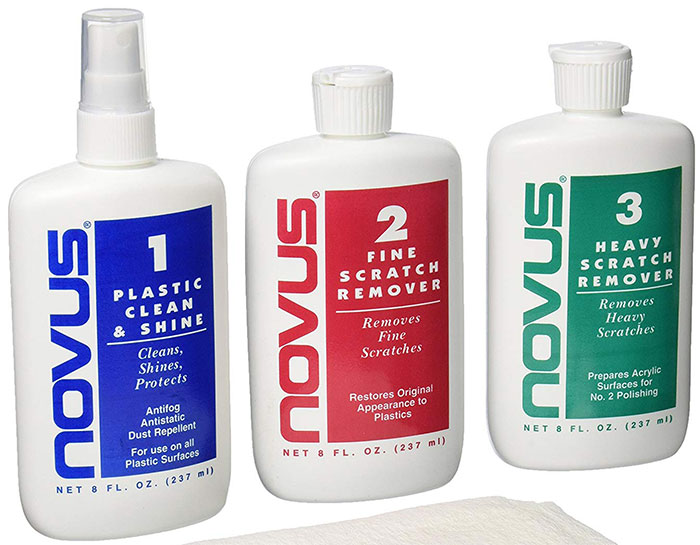 Have you ever repaired or restored a sports card slab? What did you use? How did it go? Share your experience in the comments!