When I first got back into sports card collecting, I started to notice people on forums and Instagram talking about one-touches or talking about throwing a card into a one-touch. I found myself asking "What is a one-touch in sports cards?". The answer is very simple. One-touch cases are magnetic cases made by Ultra Pro for sports cards and even comic books.
Ultra Pro One-Touch magnetic cases are awesome products because they provide a great level of protection for your sports cards and also eliminate the need for any hardware like screws. The cases are held together by a small magnet so it is very easy to swap out the card inside the case. One-touches are a great choice to both protect and display your sports cards.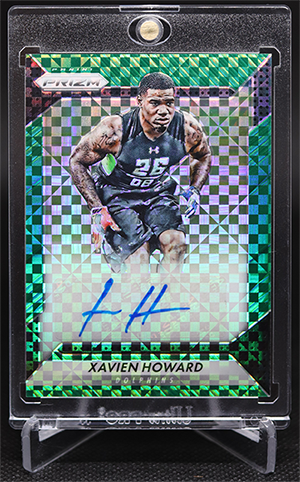 One-Touch Features
Magnetic Seal – One-touches are held together by a small magnet at the top of the case. There is a small notch where you can use your finger to pull the magnets apart and easily open the case if need be.
Diamond Corners – The corners of the case are diamond shaped which provides room for the corners of your card. No need to worry about corner damage because your corners should not be coming in contact with anything.
Tight fit – With different sizes available for different card thicknesses, Ultra Pro is able to ensure a tight fit for whatever card you have. You don't need to use a penny sleeve inside of these cases and that alone makes your card look so much better on display.
Ultraviolet (UV) Protection – The newer one-touch cases (any one-touch you see with a gold magnet is new) include ultraviolet protection. Protection from UV light is important for cards especially those that you want to display. Cards have been known to fade away when being exposed to sunlight over extended periods of time.
Frosted Border – Ultra Pro did their best to build a solid case for your cards while not taking attention away from the card itself. The frosted borders of the One Touch are meant to not detract from the card itself.
Multiple Sizes – As cards have evolved over the years, Ultra Pro has kept up with providing cases for all of the different card sizes. It's important to make sure you get the proper size One-Touch for your cards otherwise you risk damaging the card should you decide to cram a card that's too big into a smaller case.

One-Touch Sizes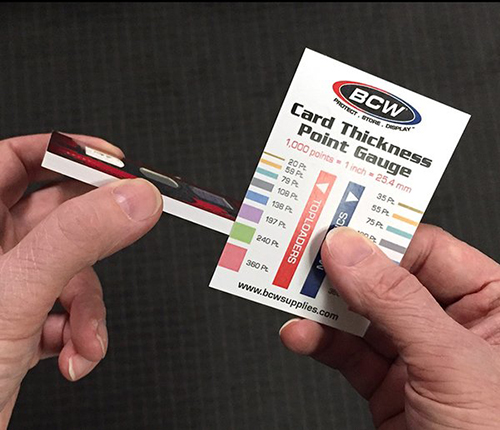 The most common One-Touch sizes most people end up using are the 35pt and 100pt cases. 35pt cases hold your most common sized cards, and 100pt cases hold your standard Panini jersey cards, thick autograph cards, acetate cards, etc).
BCW Supplies released a downloadable PDF that you can use to figure out what size toploader or magnetic case will fit your cards. Just hold your card up to the bars as seen in the picture above. Whether you open the PDF on your phone or computer, make sure that you are at 100% zoom so your sizing will be accurate.
Do you use Ultra Pro One Touch Magnetic cases on your cards? Do you love them? Hate them? Leave a comment below!