If you're familiar with the COMC platform then you've already seen what scanned cards looks like. Scanning sports cards is a great way to capture the condition of a card on a flat plane and easily show the small details of the card. Scanners allow you to easily get high quality images of your cards and you can even scan multiple cards at a time.
Why Do I Need To Scan My Sports Cards?
To be honest, it's really a thing of preference. Some buyers prefer to look at scans over photographs. I personally prefer photos and even wrote a guide to taking awesome eBay photos. If you're bad at taking photos and don't want to take the time to improve, then scanning can easily help you. Also…
Scanning is faster for bulk card images – With a scanner you can load several cards in at a time and bulk scan them. Later on you can crop them into individual images in Photoshop or Paint.
Scans help to accurately capture the condition of your card – A lot of people prefer scan images over photos for looking at card condition. It's much easier to see the crispness of the card's corners/edges in a scan over a camera taken photograph.
Can I Just Use My All In One Printer/Scanner?
If you already own an All in one printer and scanner then you may be wondering if you can use that. The answer in most cases is yes (for raw cards), but you have to put a little more effort into it. You probably won't be able to get good scans of BGS/PSA Slabbed cards using your all in one. Here are some things you can do to increase quality of scans with the all in one printer/scanner you already own.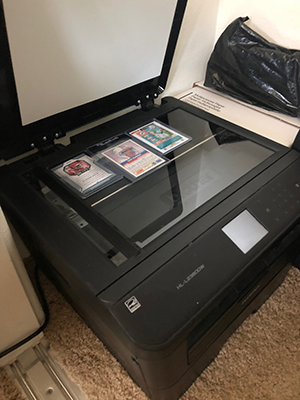 Tips For Using An All In One Printer/Scanner
Change settings to scan in at least 300 dpi – dpi is dots per inch. Basically you are increasing the detail of the image.
Remove cards from toploaders and sleeves – while this might increase risk of damaging the card, most all in one's are not capable of taking great scans when your card is in some sort of protective casing.
Remove scanner lid and place on top – If your printer/scanner has a straight forward way of removing the scanner lid, I would do that and then place it on top of the cards. This might allow you to at least try to get your slabbed/protected cards scanned without worrying about the acute angle that would be created from not removing the lid.
Why Is A Flat Bed Scanner Preferred?
There are many different options out there when it comes to scanners. One thing you definitely want to avoid is scanners that auto-feed paper through them. While these can be great for making paper copies, they are obviously not conducive to scanning sports cards. Here are the main reasons you want the best flat bed scanner you can get though.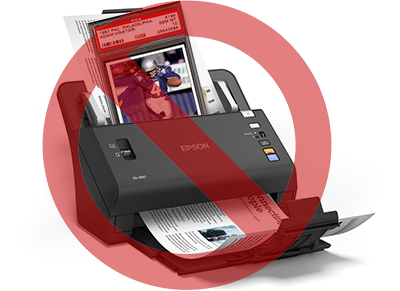 Flat Bed Scanners Can Accommodate More – Not only do a lot of flat bed scanners have a larger scanning bed (which allows you to scan more cards at once), but they also can accommodate larger objects such as PSA and BGS graded cards.
Flat Bed Scanners Take Higher Quality Images – When you buy a dedicated scanner instead of an all in one, you get a better quality product. Scanners built into a print/scan/fax situation are typically lower quality to pull in the average consumer. You want high definition, high resolution sports card images and a dedicated scanner can provide that.
Less Physical Space Required – Have you ever noticed just how much space an all in one printer/scanner takes up in your home? Well, the good news is that a flat bed scanner is much thinner and more light weight than a printer/scanner combo.
Best Sports Cards Scanner for Graded Cards and Raw Cards
It doesn't matter if you're looking for a baseball card scanner, football card scanner, basketball scanner, or even a hockey card scanner. They're all the same thing (duh)! But if you're going to invest in a flat bed scanner for sports cards then you want to make sure you get the best one.
Personally, I recommend that you get the Epson Perfection V600. This scanner comes in at under $200 on Amazon and meets all the needs to make it the best sports card scanner on the market today. You can even use this scanner for graded sports cards too.
Epson Perfection V600 Features
6400 x 9600 dpi resolution – extremely precise scanning with super high detailed images.
ReadyScan LED – The scanner uses LED lights which conserve energy but also boost the scan speed in comparison to older models.
OCR Technology – This one might not be helpful for cards but is an awesome feature for document scanning. OCR technology takes an image and can convert it to text. So you can scan in your printed documents into editable text documents.
Arcsoft Photo Studio – Don't have Photoshop? This scanner comes with it's own photo studio for editing scans and any other photos you have.
Example Scans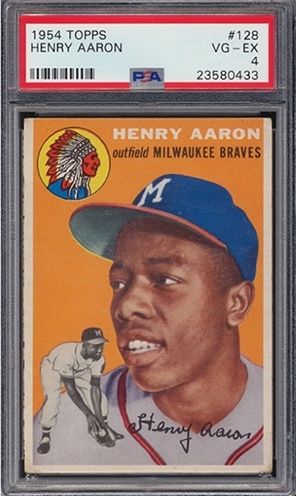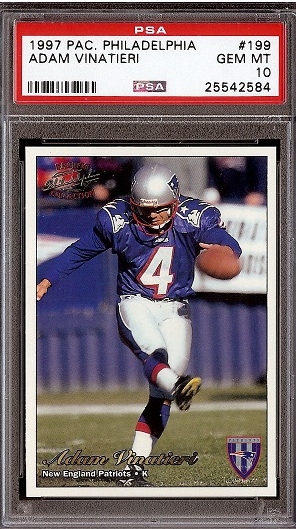 All in all, a scanner is a great way to get quality pictures of your graded or raw cards. Whether you need photos for eBay, Instagram, or just to share your collection, a flat bed scanner for sports cards can help you accomplish just that.
Do you use a scanner to get images of your sports cards? Do you have any tips, tricks, or experiences to share? Leave a comment below!