RookieCollector.com is run by some dude named Ryan. I (Ryan) am originally from Melbourne, Florida and I'm going on 30 years old. I recently got back into sports card collecting (99% football) after 20+ years and decided to start a blog/informational site to share the knowledge that I learn along the way.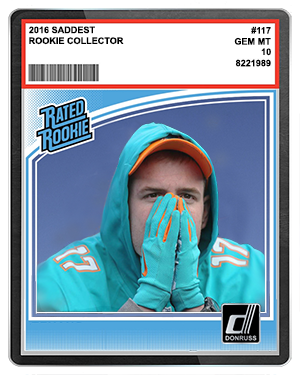 Fun Facts About Ryan
I also run a Madden website called MaddenFocus.com where I create a yearly playbooks tool and share some gaming tips.
I'm a die hard Miami Dolphins Fan.
My photo was once plastered all over the Miami Herald for over a month after the Dolphins got blown out by the Ravens 38-6 in 2016.
The very next year I went to the Ravens Dolphins rematch on TNF in Baltimore and watched the Dolphins lose 40-0.
I'm active duty Navy currently living in Hawaii.
I was bit by a shark when I was 10 years old.
Contact Information
I hope that everyone who enjoys this site will follow me on instagram and also follow me on twitter. The best way to reach me is probably through a DM on instagram. However, you can also tweet me or even email me at ryan@ rookiecollector.com. This is all detailed on my contact page.