One of the most often overlooked parts of sports card collecting is how to protect and display your sports cards. While card stands don't have much to do with protecting your cards, they are vital in displaying them. Choosing the best sports card stands for displaying your personal collection can make our break someone's first impression when they come over to see your stuff.
How many times have you gone to a friends house and they don't have any of their cards on display stands? Or better yet, how many friends do you know who's desks look like this: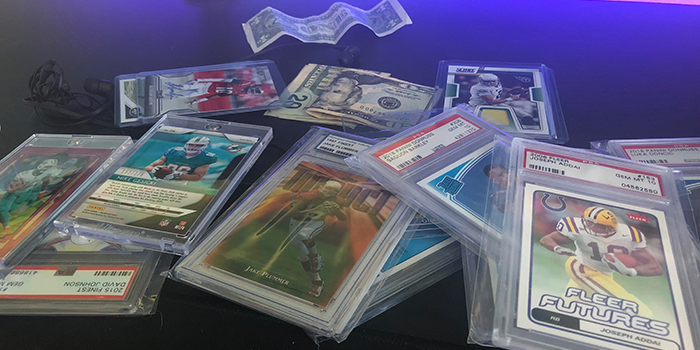 It takes very little effort to buy some cheap card stands and throw your cards into them on a shelf or even on your desk if that's where you really want them. Yet a huge percent of the cardboard community has desks that look like the picture above. That's why I am breaking down my 3 best card stands for displaying your PC cards at home. Keep in mind, there are many other options out there and the best option for you is what appeals to you. These are just my favorites!
1. 3″ BCW Foldable Card Stand (Black)
If I absolutely had to choose a stand to be the best sports card stand for displaying PC cards I'd probably choose this one. It's relatively cheap to buy a bunch of these and they don't have that cheap translucent plastic look to them either. At the time of writing this, you can get these card stands for less than $11 on eBay for 20 of them. I really like that they are foldable too because that helps with storing them more compactly when not in use.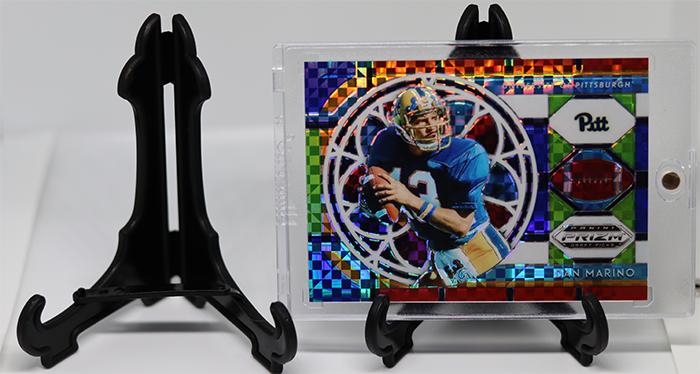 2. BCW 2 Piece Clear Card Stands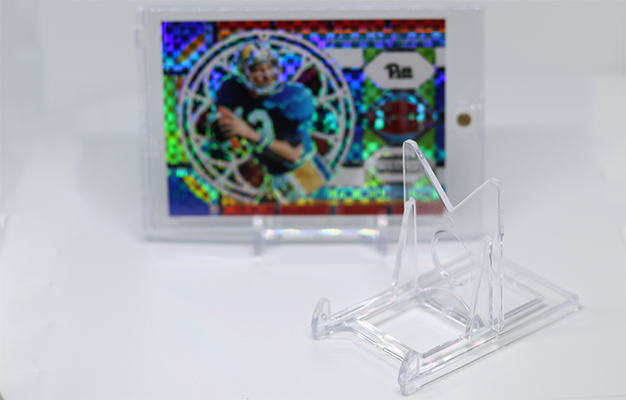 What I really love about this stand is its ability to be easily adjusted. You can display your cards at an angle like shown above or you can adjust it so they are standing closer to straight up. This comes up especially helpful when trying to photograph your cards using a nice camera. Sometimes when I use my 50mm lens the depth of field results in part of my photo being blurry due to the angle of the card in some stands. That's not a problem with this adjustable stand. You can get 20 of these for $10 on Amazon at the time of writing this.
3. BCW Small Acrylic Card Stands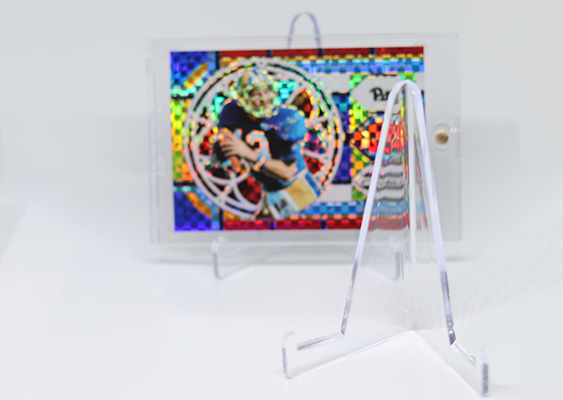 These are your regular everyday sports card stands. I used to use these often to photograph my cards when I did not want the stand to detract attention from my card. They are see through so even though you can see the bottom part of the stand it really doesn't draw too much attention away from the card itself. I don't like that you can't really adjust the angle of the card on the stand very much, but they are still good stands nonetheless. Check them out on Amazon here.
My main hope from this article is that some of you who don't own stands and just keep your PC in piles will start to display your collection at home. In my opinion, your personal collection should be on display as much as possible for your enjoyment and the ease of sharing your collection with visitors and friends.
What do you use to display your sports cards? Do you use any of these stands? Do you have a super cool wall display? Do you leave them in a pile on your desk? Leave a comment below to share!