Everyone knows that having your cards slabbed and graded increases the value of your cards. When looking at grading companies most people only ever consider the two most well known companies, Beckett and PSA. The truth is that there is a ton of other grading card companies out there but they just don't get the level of respect that the big two get. GMA Grading is one of those lesser known companies.
GMA Grading has been around since 2003 and has been slowly building up their name ever since. They seem to be the most well known of the lesser well known grading companies out there, if that makes any sense. But are they legit? I bought some GMA graded cards, dug through forums end eBay data, and read through other folks experiences to come up with the questions and conclusions in this post.
The Good
Cheap Pricing – GMA is by far the cheapest semi-reputable grading company out there right now. With prices as low as $6 per regular card and $5 for certified or pack autograph cards, no one is beating them on pricing. At this price point, it doesn't cost much more than a one touch case to get your cards graded.
Fast turnaround – GMA Grading boasts a 7 day turnaround time. Putting that up against BGS or PSA is like night and day. Sometimes you need to get a card graded and flipped ASAP before missing a profit window. GMA's 7 day turnaround is perfect for that.
Adds Value To Cards – This point is somewhat debatable. Due to some of the things I'll mention in the below "bad" section, some collectors would argue whether or not going with GMA grading actually adds value to the card. From looking at recent completed eBay auctions, it clearly does add some value to the card. Most GMA Graded cards are going for well over raw pricing. They're typically selling for less than what PSA cards are going for but in some odd cases, they are actually going for PSA 10 values and even slightly more. For example, look at these recent Baker Mayfield Rated Rookie auctions where a GMA 10 Graded card sold for more than a PSA 10: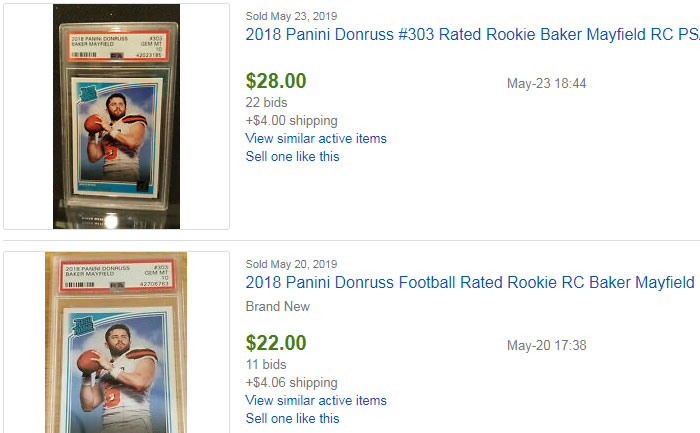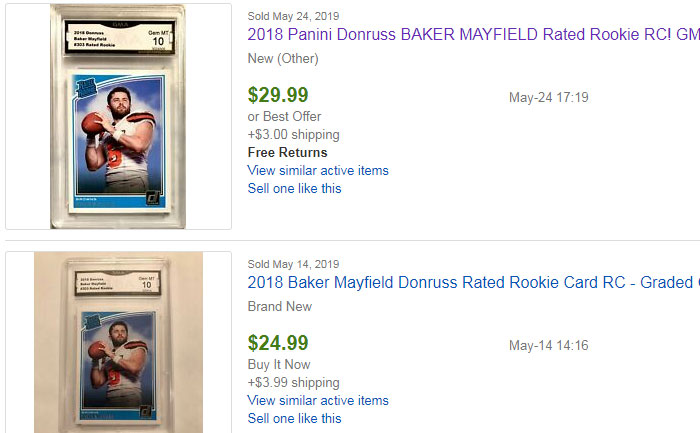 The Bad
Inaccurate Grading – If you're sending a card to a grading company. You want an accurate grade. GMA Has been known to give Gem MT 10 scores to cards that definitely don't deserve it. I bought a GMA Gem-MT 10 Josh Rosen Rated Rookie Card on eBay to compare it to a PSA/BGS version I have. The card has noticeable damage on the backside of one of the corners, yet the card is considered a Gem-MT 10. There have also been various reports all over sports card forums of people with similar stories of seeing clearly not mint cards getting perfect scores from GMA.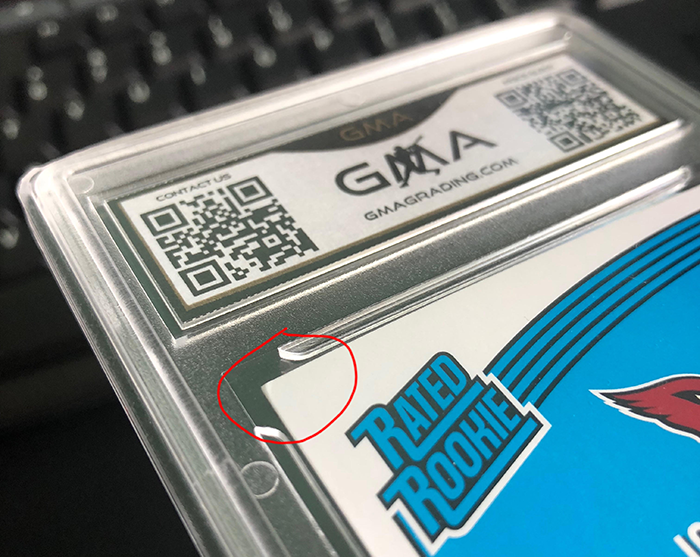 Low Quality Slab – The slab that GMA uses feels extremely lightweight and cheap. The card inside is able to bounce around freely and isn't remotely secure. The GMA grading label looks like it was printed on regular low quality paper. Everything about the slab screams knock off, in my opinion.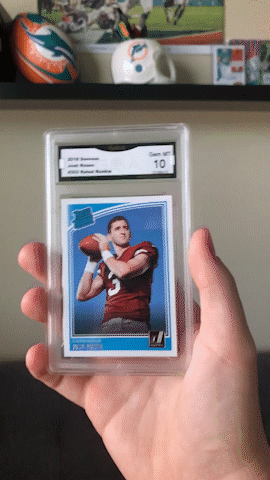 Lack of transparency or insights on the grading process – A quick google search reveals the process of how PSA grades cards and the process of how BGS grades cards. With GMA this information is nowhere to be found. The closest thing you get is their grading scale explaining what the different grades means. And that just literally appears to be PSA's grading scale rewritten in different words with typos. Speaking of which…
The website is littered in typos – Look, I'm sure there are typos on my website and I realize that I'm being nitpicky by pointing this out. However, as a grading company, you should specialize in attention to detail. Having typos literally ALL over your website is not a good look. Examples include misspelling "scratch" on the grading scale page, only listing 5 rookies (and misspelling Giovani Bernard) on the "Top 6 NFL Rookies of 2013 to Buy" page, and many more.
Buyers cannot verify grades – This one boggles my mind the most. As far as I can tell there is no database lookup to actually verify the grades of these cards online. Both BGS and PSA have databases where you can find and verify the card by its serial number. I'm wondering if they even bother keeping a database or if they just generate a random serial number for looks on the card and call it a day.
The business address is a residential home – If you stick the address on the website into google maps it literally is a home. This leads me to believe that the owner, Alan Karpuch, runs GMA Grading as a one man business out of his own home. If that's the case then this would add to the notion that the grading is extremely sub-par. Can you imagine a one man business keeping up with several people sending hundreds of cards at a time and then having to grade and slab each and return them to the customers within 7 days?
In Conclusion
Personally, I think people should stay away from GMA Grading. I certainly won't be buying any GMA Graded cards for my personal collection. If all you care about is making money and you don't care about the true quality of cards you are selling to buyers or the overall health of #thehobby… Then you might consider sending cards to GMA for a quick boost of value for reselling your cards. But that's on you.
Would you ever use GMA or buy GMA Graded Cards? Have you? What was your experience? Leave a comment with your experiences or opinions below!