Whether you are new to the hobby or a seasoned collector, at some point in your collecting journey you will likely want to sell pieces of your collection. When you begin your foray into selling sports cards on eBay and other marketplaces, you will quickly realize that the best way to ship your cards is quite the dilemma.
Collectors everywhere debate about the ideal methods for shipping their cards, and the methods vary depending on the quality and worth of the card in question. Personally, I like to ship all of my sold cards in bubble mailers via first-class mail. I have a few other guidelines I follow to ensure my cards ship safely but that's an entirely different topic in itself.
Can't I Just Print Labels On Regular Paper?
Many collectors jump into selling their cards on eBay without any real plan of how to ship their cards once they sell. This typically leads to them paying more to go to USPS in person and waste time and money instead of just printing labels direct from their computer at home.
Eventually, they graduate to printing labels directly bought through eBay but on paper and then using copious amounts of tape to affix the paper label onto their package. Again, this is a waste of time, tape, and money. While buying a thermal label printer for eBay shipping may seem like a big expense up front, it actually saves time and money in the long run if you do any sort of regular shipping. So what's the best thermal printer for printing shipping labels on eBay?
My Top Pick: The Rollo Printer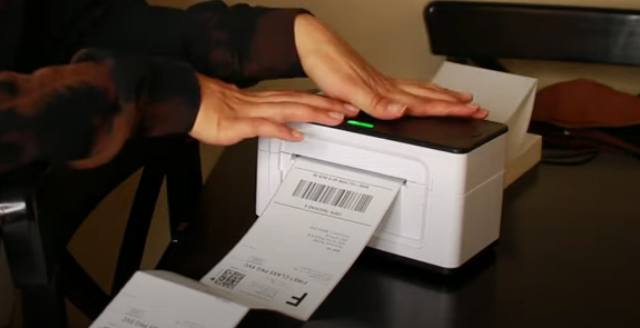 Easy to setup, no fancy drivers needed (unlike Zebra printer below)
Works will all major platforms (eBay, Stamps.com, etc)
Automatically identifies and selects the correct label size you feed it.
No ink refills required ever!

What To Look For In A Thermal Printer for eBay
If you're in the market for a thermal printer, it probably means you're doing a fair amount of business on eBay, Shopify, or wherever it is you sell your products. You're likely printing labels day in and day out which means you need something capable, reliable, and affordable. Some of the key things you'll want to look for are listed below.
1. Setting Up The Printer Should Be Easy
Some of the older generations of workhorse thermal label printers came with a hefty installation process. Users were met with tons of cables, install disks, etc. Many of these continued to be the "top" printers even after operating system support ended for them. For instance, the Zebra TLP2844 printer I used previously required me to have a virtual machine with Windows XP installed on it to continue to use it after the manufacturer stopped supporting it. So you'll want to make sure the printer you get is simple to hook up, and hopefully has auto-installing drivers.
2. It Should Be Reliable And Fast
Speed is only essential if you are printing batches of 50-100+ a day. If you are printing that amount of volume then you will notice the difference between 1 and 3 seconds per print job. However, in any case, you will want reliability in your printer. You want to be able to trust it to do its job day in and day out for years.
Honorable Mention: DYMO LabelWriter 4XL
Another super common thermal printer for eBay labels that people tend to use is the DYMO LabelWriter 4XL. If you check it out on Amazon, you'll see that this printer has plenty of great reviews. However, it is lacking in a few key areas which makes it not as good of a choice as the Rollo.
The main thing that bothers me about this printer is the fact that you have to use DYMO brand labels, otherwise, you void your warranty. I've also noticed that basically everyone I know who owns this printer has had some sort of issues with reliablity with it in the long run.
Final Verdict
I would recommend anyone who is getting serious into selling online (sports cards or not), to look into getting a thermal printer for printing your shipping labels. While there are many choices out there, I wholeheartedly recommend the Rollo Label Printer because it is the most durable, flexible, and reliable label printer I have found to date in my years of selling online.
Frequently Asked Questions
1. Does the Rollo Printer Require A Specific Brand of Labels?
No! That is one of my favorite things about this printer. Other printers (such as the DYMO mentioned above) require you to use their brand of printing labels otherwise you will void your warranty. But with the Rollo, you can use whatever the cheapest labels you can find are.
2. What Cleaning Or Maintenance Is Required?
Personally, I have never had to clean or do anything special to maintain this printer. On day one I opened it up and gave it a quick inspection and everything looked clean and good to go. Since then, I haven't touched it other than to replenish my labels.