On April 26, 2018, the Cleveland Browns shocked the world by selecting Baker Mayfield number one overall in the 2018 NFL draft. Mayfield, who was expected to go in the middle of the first round, was chosen over the likes of Sam Darnold, Josh Allen, Josh Rosen, Lamar Jackson, and others. Almost everyone was speculating that Sam Darnold was the best QB available in the draft.
The Browns' gamble has paid off though. After not winning a game in 635 days, Tyrod Taylor went down during a game resulting in Baker Mayfield having to step in. Baker led the Browns to a 21-17 comeback victory that injected some much-needed hope into the veins of all Browns fans. The Browns ended up 8-7-1 in the 2018 season with high hopes of returning in 2019 with an improved team ready to make a run at the division.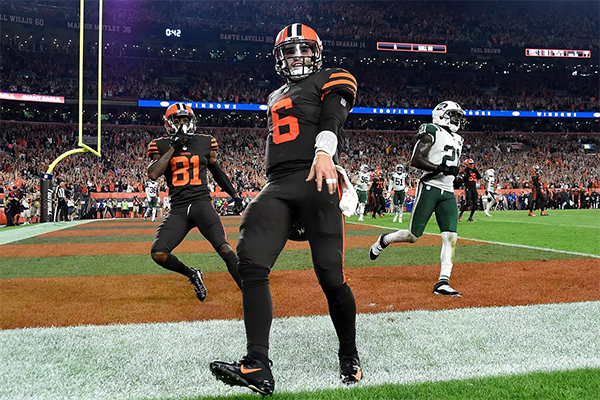 With Baker Mayfield leading the Browns to 5-2 in the last 7 weeks of the season, it's no surprise that Baker Mayfield rookie cards are now very high in demand. Now that the Browns have added Odel Beckham Jr, among other stars, it does not seem like the hype will die down around Baker and the Browns any time soon.
Best Baker Mayfield Rookie Cards
Unlike in the time of the vintage greats like Dan Marino, Brett Favre, etc, we now live in a time of abundance when it comes to trading cards. For modern QBs like Mayfield, there is no single established best rookie card. However, market trends do show that there are fan favorites that can help you decide what to collect.
2018 Baker Mayfield Contenders Rookie Cards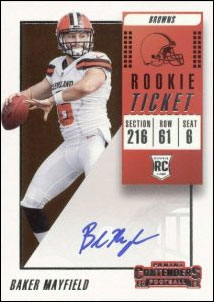 The 2018 Contenders series cards seem to house the most popular Baker Mayfield rookie cards out there. From the standard autograph rookie ticket cards to the numbered to 24 cracked ice autographed rookie ticket cards being the holy grail.
A regular rookie ticket autograph card for Baker recently sold for $2400 on eBay. A recent Cracked Ice Contenders Baker Mayfield autograph card (out of 24) graded at 9.5 sold for $8,400. That should give you an idea of the level of money people are willing to pay and the level of respect/expectation there is around Baker Mayfield. Keep in mind that while I am only highlighting the standard/cracked ice autos, the contenders series has different variations beside them.
2018 Baker Mayfield Prizm Rookie Cards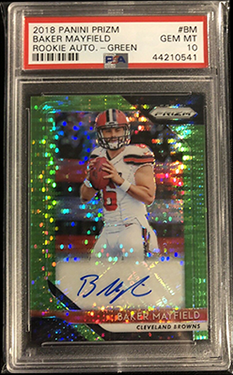 Prizm remains a fan favorite in the card collecting community and that is especially true for Baker rookies. Prizm seems to be the most respected set of cards to collect base rookies in. You can easily sell a PSA 10 graded Baker Mayfield Prizm rookie card for over $100 all day on eBay. Raw versions of the card vary in price due to it being harder to tell the condition of a card from photos alone. They do sell for quite a bit though, all things considered.
If you're lucky enough to get your hands on an autographed silver Prizm card of his, you're looking at close to $600 at a minimum. The demand for these cards is real and only seems to be going up with time. The colored variations range all the way up to $2000 at the time of writing this guide. If the Browns have 8+ wins in 2019 I'd estimate that Baker cards will continue to rise throughout the following offseason.
2018 Baker Mayfield Rated Rookie Cards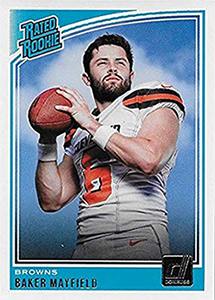 Rated rookie cards are a staple card for any current collector these days. They are easy to collect base cards that have some cool parallels as well. The #303 Rated Rookie card (pictured) goes for about $40-$50 as a PSA 10. The #153 variation goes for around $50-60 as a PSA 10. #153 Depicts Baker in a similar pose but wearing his helmet.
The Optic set does have a Rated Rookie card that has an on-card auto. However, in my opinion, it seems like that card is typically very overpriced. I'd rather get a base Rated Rookie and splurge on a Contenders auto or Prizm auto. Obviously, that is a decision you have to make for yourself though! Maybe you have big money and can get both.
Do you collect Baker Mayfield Rookie Cards? Do you believe there is an essential card to collect that was not outlined on this page? Leave a comment below!