With the economy better than ever, there really has never been a better time to get into collecting sports cards. The hobby has been exploding the last few years with new collectors and old collectors returning to their roots. But is #thehobby really at its peak? Some would argue that it's actually the worst time to be a collector and that the hobby is being ruined by a few huge issues.
Player Worn Material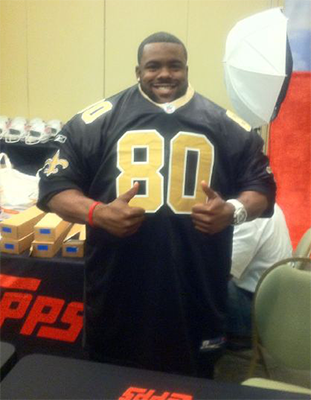 Player worn material is arguably the biggest cancer to this hobby. When you first hear the term "player-worn", it might sound attractive until you realize the difference between player-worn and game-worn/game-used material. Player worn material is created at events where card companies have players wear jerseys, gloves, etc in mass amounts to obtain material as cheaply and efficiently as possible.
As you can see from the photo of Mark Ingram wearing about 50 Jeremy Shockey jerseys, oftentimes the players are not even wearing their own jerseys. Panini, Topps, etc do not specify who wore what jersey on the cards. That means that your player worn material might not even be worn by the player on the card you got. It's essentially worthless but collectors overlook it. Player worn material has allowed companies like Panini to flood the market with mass-manufactured "rare" cards. 99.99% of the time now, if you buy a retail box of cards you're going to end up with a "hit" that is just a crappy player worn material jersey card.
Sticker Autographs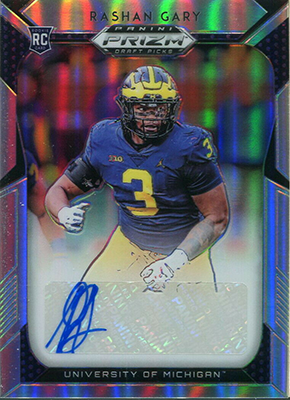 Of all the different types of autographs, sticker autos are clearly the worst. Sticker autographs are when an athlete signs a book of stickers instead of signing the cards themselves. This lets card companies apply autographs to cards that don't even exist yet at a later date. For some reason, we as collectors have decided that we're okay with this and still consider cards with sticker autos to be valuable.
Sticker autographs encourage laziness (Rashan Gary autograph) from the athletes signing and also often results in them cheating us by using auto pens like Dak Prescott got caught doing back in 2017. Personally, I think a sticker auto is only a very slight upgrade to a non-auto card but comes at a price that typically isn't worth it. I'd much rather pony up a little extra cash to get a really nice on-card autograph.
Redemptions and Points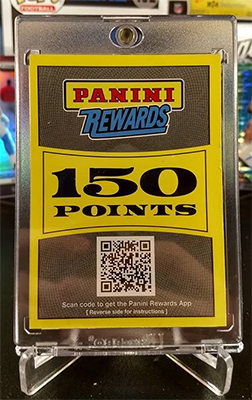 Ahhh, Panini points and redemptions. As if player worn material cards and sticker autos weren't enough, Panini took manufactured hits to a whole new level. Redemptions are cards put in packs that simply are the equivalent of an "I owe you". Panini makes you enter a code in on their website and promises to get you a certain card OR a "comparable" card. The problem is, they take forever. In fact, there is even a class action lawsuit that was filed in February over them. Some people have been waiting 2 years for a single redemption.
Panini points are pretty much trash as well. Panini points go towards purchasing cards from Panini's online store. The problem is that it takes a ton of points to get cards that are not really worth it. The selection of cards is unattractive and on top of that, they have the nerve to charge YOU for shipping.
The good thing is that even with all the doom and gloom going on in the hobby today, it's still growing. We have new collectors flooding in which means a bigger market and more voices to help make changes, for better or for worse.
What are your least favorite parts of the hobby? What would you do to improve them if you owned a company like Panini or Topps? Leave a comment below!