Rashan Gary is the Green Bay Packers 12th overall pick in the 2019 NFL Draft. Gary, a former Michigan defensive end, has a lot of hype around his name. Much of the attention paid to him by the public results from his time on the television show "All Or Nothing: The Michigan Wolverines", which followed the 2017 Michigan Wolverines team through an entire season.
By all accounts on social and mainstream media, Rashan Gary appears to be gracious, motivated, and ready to get to work in the NFL. But recently I came across some of his autograph cards on Instagram and I had to wonder, does he care about his fans? Rashan Gary has the worst autograph I've seen in sports cards.
Do you see an "R" or a "G" in there? Do you see anything besides a random scribble? I don't. At first glance, I figured it was a one time mistake where he was rushing and accidentally signed his initials on top of each other. But then I saw another card…
More scribbles, except this time it's not bunched up in the corner. This autograph takes up the entire sticker but still somehow has no readable letters in it. The only consistency in his signature is that it is illegible and bad. Here's why his autographs piss me off:
They're inconsistent.
They're illegible.
They often run off the side of the sticker.
He actually does know how to sign his name, he's just choosing not to.
Inconsistent. From what I've seen searching eBay, he has two main "versions" of his autograph. On early 2019 sets, you see a lot of the super small, bunched up, autographs like the Prizm auto in the above picture. On the more recent 2019 sets, it appears that someone possibly complained to him about it and he changed his "signature" to a more wide one as pictured in the second photo.
Illegible. I have yet to see a single sports card where any part of his "signature" resembles any letter in the alphabet. All I see is looping squiggles and scribbles on top of each other.
Running off the sticker. When an athlete can't keep his signature on the sticker it usually results in the autograph receiving a lower than 10 grade from BGS. I'd venture to say that close to 50% of the sticker auto cards I see on eBay for Rashan Gary autographs are running off the sides of the sticker.
He's blatantly not trying. If you believe that the way he signs his sports cards is "just how he signs his name", then you are mistaken. If you look up previous autographed memorabilia from him you'll see that he is very capable of signing both his initials and his full name. Rashan Gary just does not care enough about his fans to take the time to sign sports cards he agreed to sign. Check out these helmets he signed before he forgot how to correctly autograph memorabilia:
If you're a die-hard Rashan Gary fan or a Packers fan that feels the need to get some of his memorabilia, I'd highly recommend steering clear of his signed cards completely. Pick up a helmet or mini-helmet. It doesn't appear that he intends to be putting quality signatures on sports cards any time soon. Check out all of these eBay auctions at the time of this post, it's nothing but scribbles: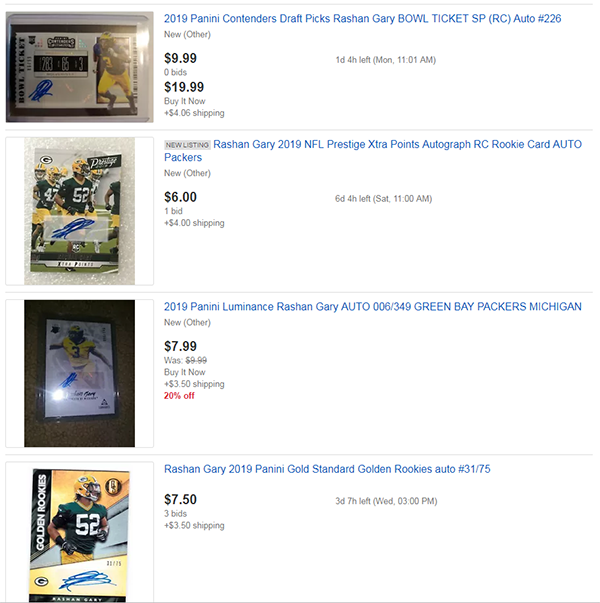 If I were a Rashan Gary fan or a Packers fan, I would refuse to buy his cards. I know it wouldn't make any difference, but I refuse to support an athlete phoning it in when it comes to signing sports cards. As collectors, we're already paying an embarrassing amount of money for signed photos of athletes. Signatures add value to these cardboard photos we collect. But when athletes start scribbling nonsense on them instead of actually signing them, it hurts the overall integrity of the hobby.
What do you think? Is Mr. Squiggle Scribbles the worst signature you've ever seen? Who has a worse autograph? What are some of the worst signatures you've seen on sports cards? Post a comment below!