Take five minutes to browse some sports card auctions on eBay. I'd be willing to bet that in your five minutes at least 30% of the auctions you come across will be from the users Probstein123 or pwcc_auctions. That's because these two sellers are the largest sports card and memorabilia consigners on eBay.
Did you know that you can actually avoid paying eBay and Paypal fees by consigning cards? Depending on the consignment rate, it can actually be cheaper to list your sports cards through PWCC than listing them on eBay yourself. Which probably leads you to the question of "What are PWCC Consignment Rates on eBay?". Well, I'm glad you asked! PWCC consignment fees actually vary depending on what you are trying to sell. But don't worry, this article will break down all the different fee rates.
Check out current PWCC Auctions Here
PWCC eBay Consignment Rates
The latest rates for PWCC auction fees can be found on their website under the "Submit to auction" page. However, we have also broken them down on this article for your convenience.
Individual Graded Cards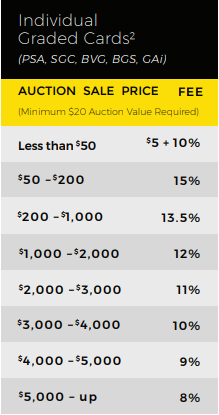 Less than $50 – Fee is $5 + 10% of sale
From $50 – $200 – Fee is 15% of sale
From $200 – $1000 – Fee is 13.5% of sale
From $1000 – $2000 – Fee is 12% of sale
From $2000 – $3000 – Fee is 11% of sale
From $3000 – $4000 – Fee is 10% of sale
From $4000 – $5000 – Fee is 9% of sale
From $5000 – up – Fee is 8% of sale
There are also volume discounts on fees as seen in the image on your left if you are submitting 250+ or 500+ individual cards at once.
Individual Ungraded Cards
2020 Update: As of October 15, 2020, PWCC is no longer accepting raw/ungraded trading card submissions for their monthly auctions. The pricing below is here for legacy purposes.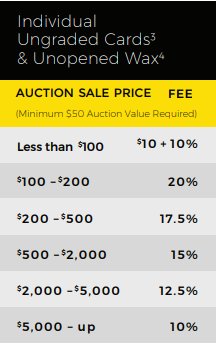 Less than $100 – Fee is $10 + 10% of sale
From $100 – $200 – Fee is 20% of sale
From $200 – $500 – Fee is 17.5% of sale
From $500 – $2000 – Fee is 15% of sale
From $2000 – $5000 – Fee is 12.5% of sale
From $5000 – up – Fee is 10%
As you can see from the chart, the fees for ungraded cards are a bit higher than their graded counterparts. Take this into consideration if you are looking to sell ungraded cards.
Multi-item lots / Memorabilia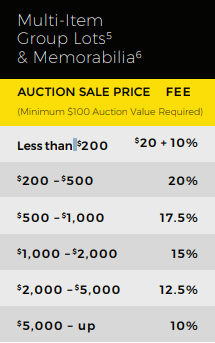 Less than $200 – Fee is $20 + 10% of the sale
From $200 – $500 – Fee is 20% of the sale
From $500 – $1000 – Fee is 17.5% of the sale
From $1000 – $2000 – Fee is 15% of the sale
From $2000 – $5000 – Fee is 12.5% of the sale
From $5000 – up – Fee is 10% of sale
Be sure to do the math to see if sending a lot of items to PWCC makes sense for you.
Also, make sure to email PWCC and cooperate with them in ensuring the condition of the items prior to sending them in for submission. Multi-item lots require prior approval before submission.
PWCC Contact and Shipping Information
Phone Number: 833-333-PWCC (7922)
Email: [Not listed, must contact through website]
eBay store: PWCCMarketplace
Address For Submissions:
PWCC Marketplace, LLC
3 Monroe Pkwy Suite P, #601
Lake Oswego, OR 97035
General Mailing Address:
PWCC Marketplace
7560 SW Durham Rd
Tigard, OR 97224
How Do I Consign With PWCC?
Consigning with PWCC is actually an extremely easy and hassle-free process. You simply need to fill out their submission form (a simple PDF), print it, and ship it to them along with your sports cards and/or memorabilia to be sold. That's it! After PWCC receives your sales items, they take care of photographing them, listing them, and shipping them to the ultimate buyer. You will promptly be paid after the item has been sold and shipped.
Should I Consign With PWCC?
When it comes to making the decision of whether or not to consign your sports cards with PWCC or to consign them at all, the decision is ultimately yours. Listing your auctions through a consigner makes sense for those who want to remain anonymous, save on eBay/PayPal fees, and don't want to deal with customer service and photographing, listing, and shipping their cards to a buyer.
Some collectors argue that we should not support consignment shops such as Probstein123 and PWCC due to accusations of shill bidding and allowing the resale of trimmed sports cards. If you dig into Google you can find a lot of mixed feelings on the subject. I would suggest you do your own research before making your decision.
Have you ever listed cards or memorabilia through a consignment shop like PWCC or Probstein123? What was your experience? Leave a comment below!