With the release date of June 2019 just days away, I figured we should have an overview of the 2019 Leaf Trinity Football Cards series. Out of all of Leaf's NFL prospect sets, most collectors would agree that Trinity is the best. It's a step above Leaf Metal Draft and 2 steps above the mostly disappointing 2019 Leaf Draft Football Set.
Release date: June 2019
Hobby Configuration: 5 cards per box, 10 boxes per case
2019 Leaf Trinity Football Autographs
Within each hobby box collectors can expect to find 5 autographed cards. Leaf is following their usual tradition of sticking to three prominent card designs. These designs are the Signature Autographs, Trinity Patch Autographs, and Clear Autographs.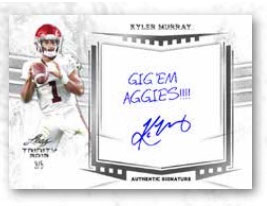 Signature Autograph cards are awesome because they really leave the player a lot of room to sign. This leads to many of the players writing cool limited edition inscriptions with their signature.

2019 Leaf Trinity Patch Autograph cards leave a little less room for the signature but have large room for memorabilia patches. These player worn patches can be anything from team logos to bowl logos and more.
While I was not a big fan of Leaf's regular draft football release, having 5 autos per hobby box is a big plus. I look forward to seeing these cards when they come out, especially to read some of the custom inscriptions by players on the signature auto cards.

Are you going to be picking up any 2019 Leaf Trinity Football Cards this year?