I'll be the first to admit that I am a total newbie right now when it comes to collecting football cards. The last time I had a football card collection going was circa 1997-1999 and I was in elementary school. Some 20+ years later I for some reason decided I wanted to get back into #thehobby and the first thing I did without much thought was go to my local Target store and grab a blaster box of 2019 Leaf Draft Football Cards.
2 Autographs Per Box!
I think what grabbed me was the "2 Autograph cards per box!" on the label. I did zero research beforehand and just impulse bought it instead of other options the store had (2019 Panini Score Blaster Box, 2018 Absolute / 2018 Donruss value packs).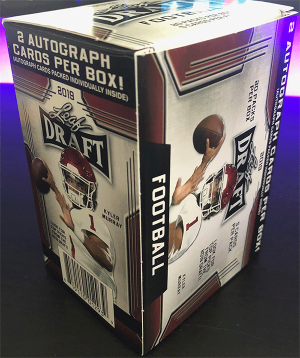 Each blaster box contains 20 packs with 5 cards in each pack. The 2 autographed packs per box are packed in the box separately from the other packs. They are basically just two cards sitting inside of toploaders in the box by themselves (no sleeve in the toploader either). The boxes retail around the $19.99 mark. I believe the hobby version is about $29.99 and the only difference is that it contains an extra auto card (I could be wrong though).
I got the box home and was super excited to bust out the packs and get to ripping them open. When I opened the first pack I immediately started having feelings of disappointment. The cards felt like cheap pieces of card stock with low end images printed on them.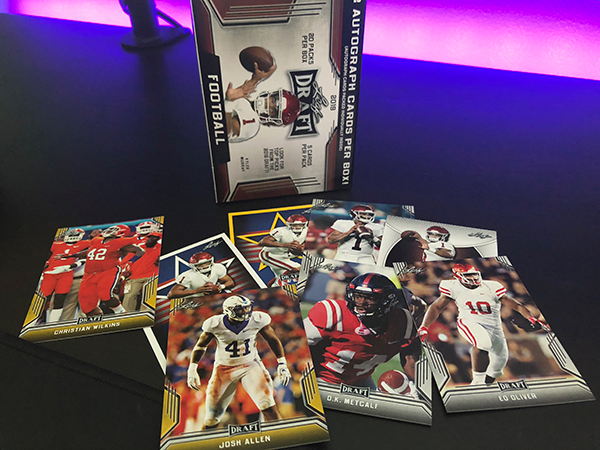 The design of the cards is, in my opinion, extremely boring and has a very outdated feel to them. If I didn't know any better you could have told me that this was a pack of cards from 1999 and I wouldn't have challenged you. Even the autograph cards were disappointing.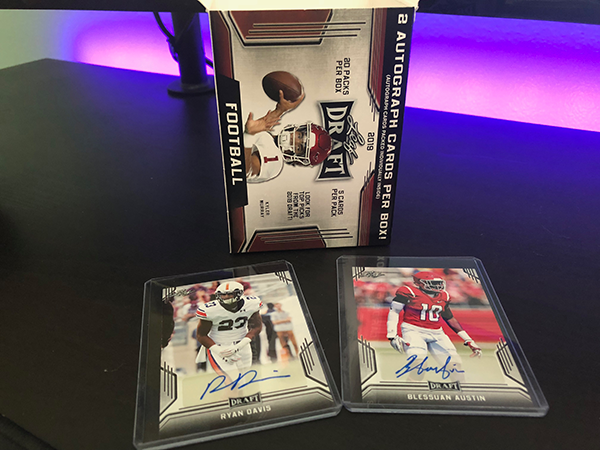 The autograph cards look exactly like the rest of the cards except they have an autograph on them. In my opinion, these are the only cards in the box that have the potential to be worth anything down the road. However, they're not even serialed/limited so who knows how many are out there for each player.
A quick look at Check Out My Cards shows that none of the cards in the set are really worth all that much:

The exception to that is if you manage to be lucky enough to pull a signed Kyler Murray card. A couple cards went for $106 and $116 as of May 2019 on Ebay. You can check for yourself on Ebay for recent sales by clicking here.

The Final Verdict: Skip 2019 Leaf Draft Football
This product feels extremely low end and I don't really feel like it's worth the money or time. The overwhelming majority of the cards are completely worthless. However, the 2019 Leaf Metal Draft seems like a much better set. The Metal draft has a bunch of limited cards and limited autos. They also have a ton of better looking art, foil cards, etc.
Check out 2019 Leaf Metal Draft Boxes on Ebay Here.
But as far as 2019 Leaf Draft standard goes, I'd skip it if I could go back in time. Much better off going with the metal version or 2019 Panini SCORE or just waiting for better Panini products later in the year.
What's your opinion? Leave a comment below!