Cards Per Pack: 10
Packs Per Box: 4
Boxes Per Case: 12
Set Size: 200
Release Date: June 7, 2019

Hobby Box Contains:
3 Autographs – 1 Draft Day Signatures, 2 various
1 Memorabilia Card
4 Inserts – (1 per pack)
5 Parallels
Be sure to check out the 2019 Luminance Checklists Here.
With 2019 Panini Luminance now released as of last week, I figured it was time to write up an overview of the set. Luminance football debuted last year for the first time ever featuring modern full size card designs that have a bit of a dark vibe to them. This year's Luminance football cards are very similar and feature a large and fancy font giving the cards a very unique look.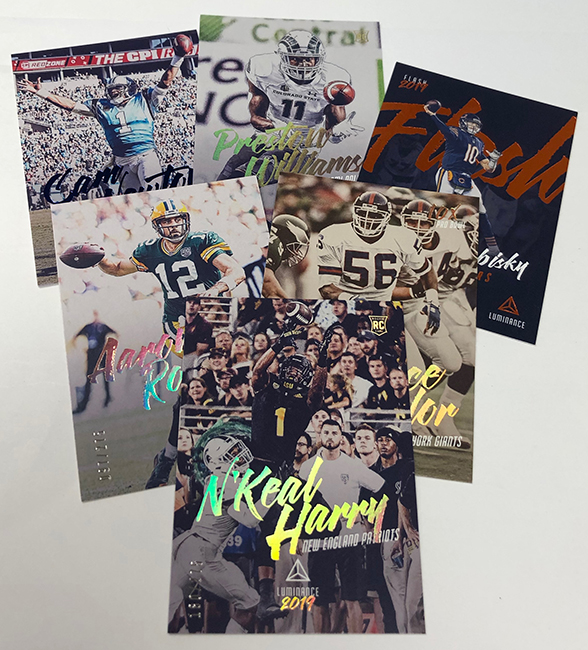 2019 Luminance Football Base & Parallels
This year's Luminance Football cards are a full-bleed design and feature live-action images. This means that the image takes up the entire card and has no border. The base set focuses on NFL veterans and this year's rookie class. This set of cards is the first set that will list the NFL team the rookies are going to on their cards, although they will still be in their college uniforms. The parallels are as follows: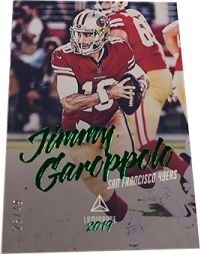 Gold

– #/275

Blue – #/99
Green – #/49
Orange – #/25
Red – #/10
Pink – #/5
Platinum – 1/1
2019 Luminance Autographs
The autographs are what particularly excite me when it comes to the Luminance set. Luminance football cards feature 3 autographs per box, one of which will be an on-card Draft Day Signatures autograph card. One of my favorite features about the autograph sets from Luminance is that they are featuring different color inks. For instance, Gold ink signatures will be /25 or less, Blue ink will be /5 or less.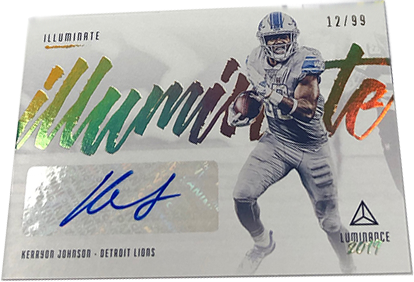 Draft Day Dual signature cards, which is a new signed insert card, will also be on-card autographs. Spotlight signatures will feature sticker autographs from current NFL stars and veterans.
2019 Luminance Inserts
Inserts are the usual one-per-pack deal we are all used to by now. The variations are Dynamic/Dynamic rookies, Flash, Luminary, and Vintage. Lightspeed is a new insert variation that is reserved for the fastest players on the field. Parallels are Orange (#/100) and Platinum (1/1).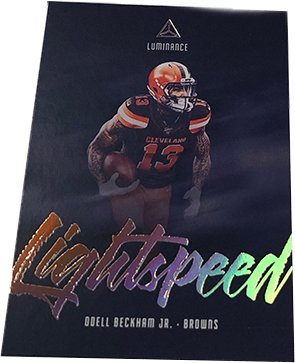 2019 Luminance Memorabilia
Each box contains one relic memorabilia card. The variations include Bright Beginnings and Vintage Materials. There's also Jumbo which is named that because of the large swatches of memorabilia included in the cards. Parallels are Prime Gold (#/49 or less), Red (#/25 or less), and Platinum (1/1).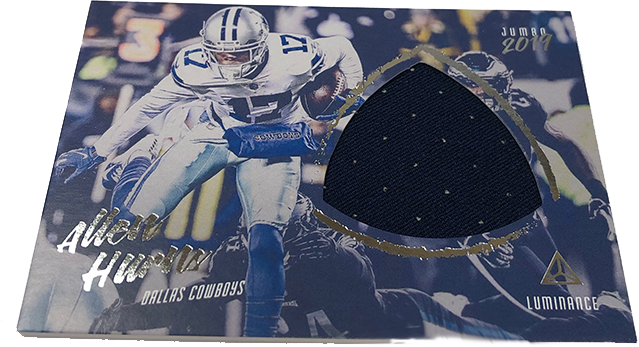 Personal Thoughts
Personally, I really can't decide whether or not I love or hate this set. I love the action shots and I think I like the full bleed design but at the same time they just don't feel like ordinary football cards to me. I feel like they're more like mini posters which, to me, is a bit of a turn off. I'm interested to see how this product does demand wise on the resale market.

What do you think of Luminance Football cards? Do you love them? Hate them? Will you be buying a box? Leave a comment below! Also be sure to check out the checklists here if you haven't already.