Kenyan Drake is currently the #1 RB for the Miami Dolphins going into the 2019 season. In his 3 years as an NFL RB he has been underused and overshadowed by RB's like Jay Ajayi and Frank Gore. This makes his cards cheaper, which is a good thing if you're looking to collect his stuff! Drake is set to have a record year this year if utilized as the workhorse for the team.
Top 5 Kenyan Drake Rookie Cards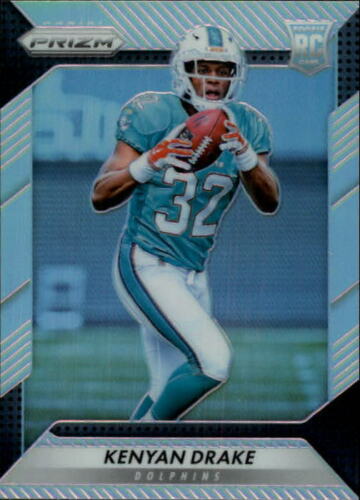 2016 Prizm Base Rookie Card – Silver prizm rookie cards are a must have for any player in your PC, in my opinion. Silver prizms are one of the best looking base cards in sports cards and at the time of writing this they are really cheap for Drake. You can pick up this card for around $1-2 plus shipping.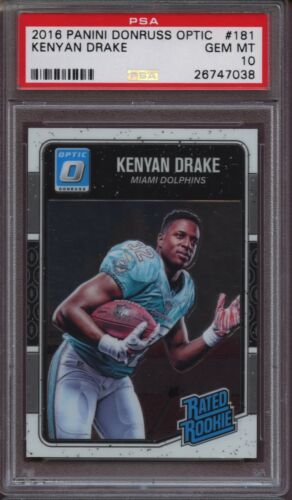 2016 Optic Rated Rookie Card – Rated Rookie cards are another staple card you have to have when collecting a player's rookie cards. I like the optic version of Drake's Rated Rookie card over the donruss version because of the shiny background (you can't really see it in the photo but it's silver shiny). If you prefer a real background, his donruss rated rookie card provides that.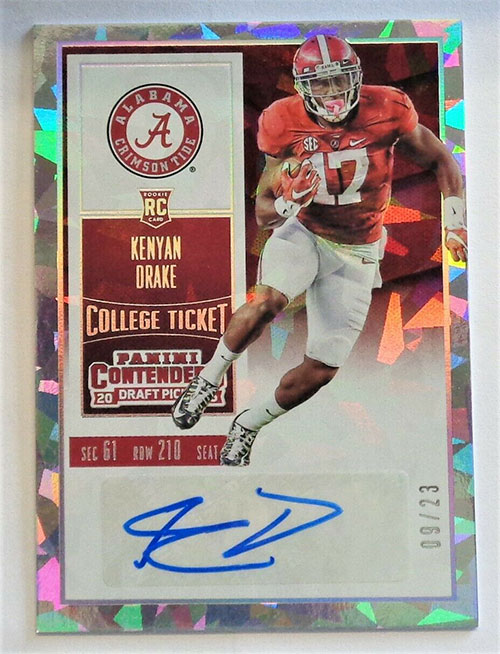 2016 Cracked Ice Contenders Rookie Card – This card is just beautiful. I love cracked ice cards as well as the college ticket series. It's a /23 so it's very limited. I think the only way this card could be better would be if it wasn't a sticker auto. I'd prefer an on card auto whenever possible. At the time of writing this there is one of these cards available on eBay for $129.99 or best offer.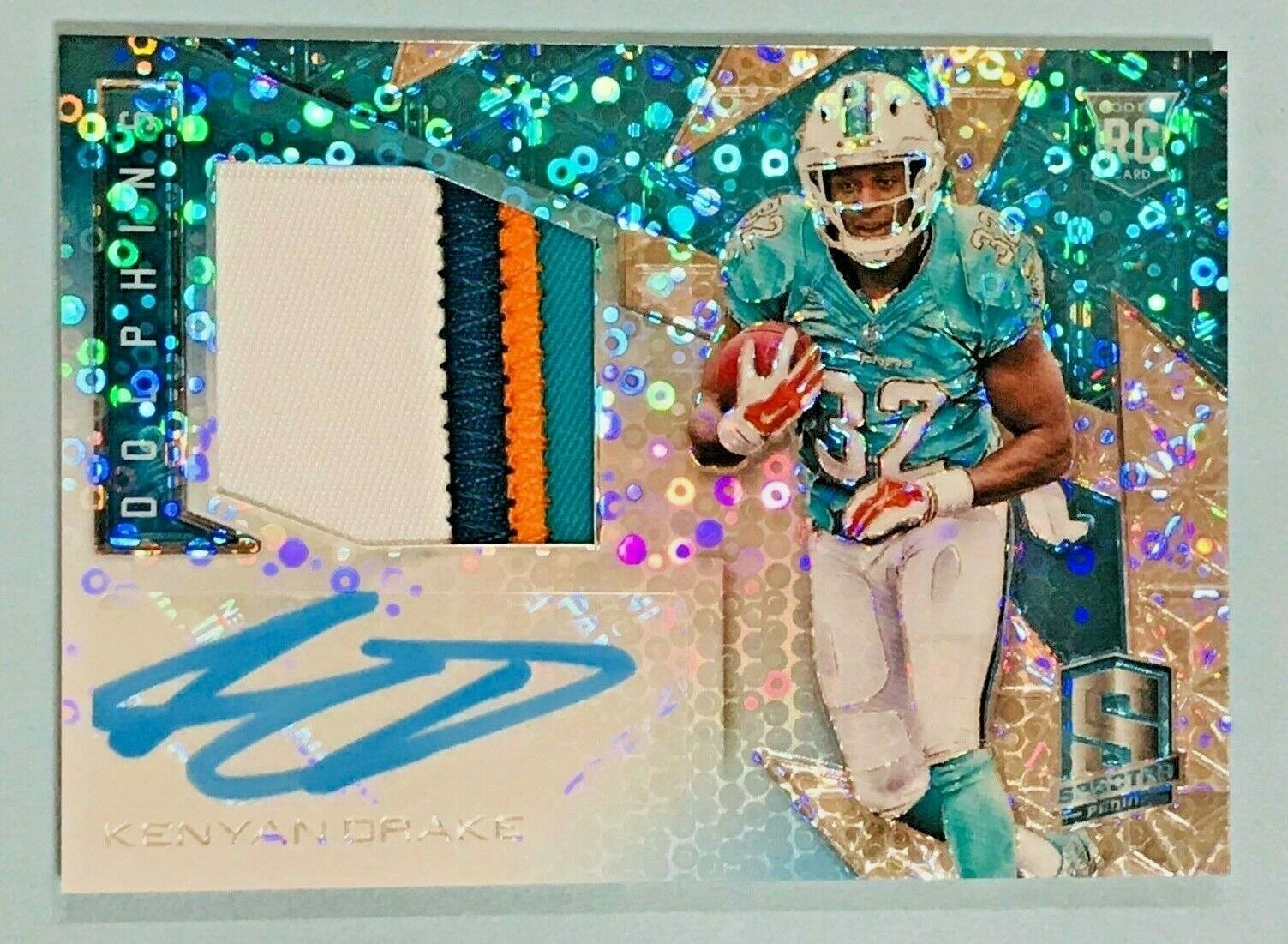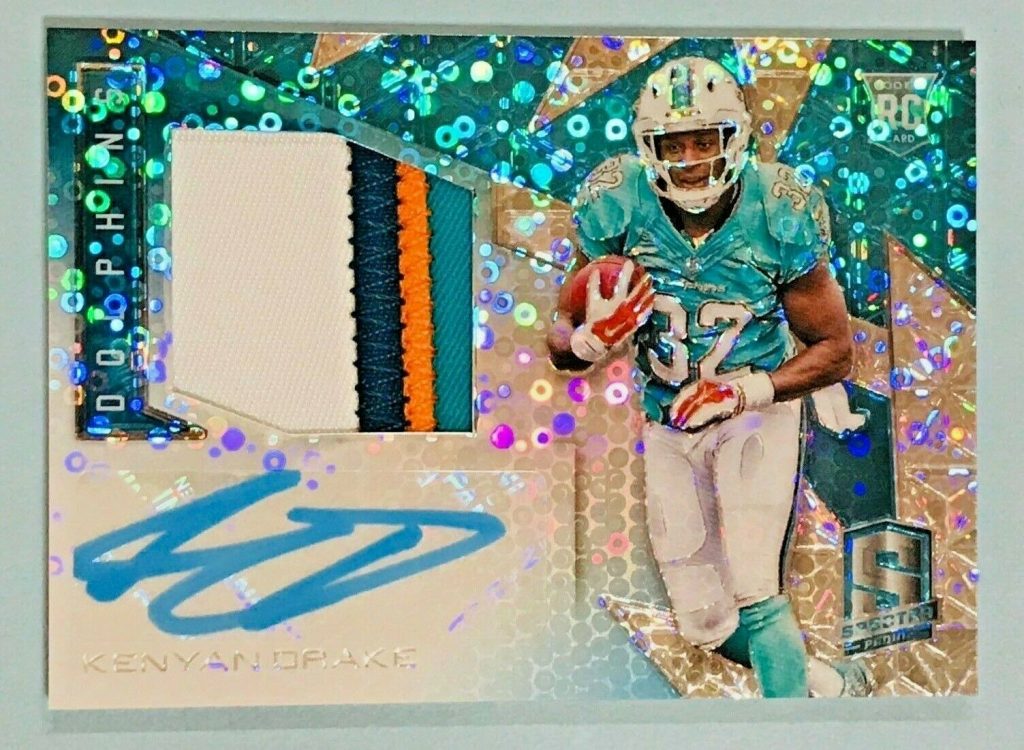 2016 Spectra Rookie Patch Autograph Card – While I'm not a huge fan of the marker he used on these cards for signing, they are really good looking cards. Also, if you can get your hands on one with a 3 color patch that's an added bonus. There's a few different variations to this card, but this specific one is a /60. Check out eBay for other variations.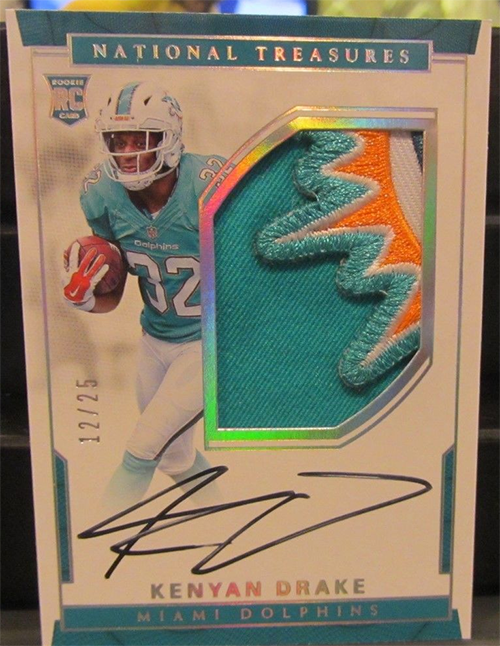 2016 Kenyan Drake National Treasures RPA – This card is gonna cost you a bit of money! The National Treasures series are always really nice high-end sports cards. The logo patch makes this card highly desirable along with the on-card auto. Depending on how hot Drake plays this year, these cards will probably be running for easily in the $50-$100+ range on eBay this year.

Do you have any specific favorite "must have" Kenyan Drake rookie cards? Post them in the comments below!