If you've searched or purchased sports cards on eBay any time in recent years then you have probably noticed many sports card auctions by a user named Probstein123. Probstein123 and PWCC are two users that do eBay consignment for sports card collectors allowing you to let their businesses take care of the listing, packing, and shipping of your cards. A common question folks have when they here about his business is "What are Probstein123's eBay Consignment Rates?".
Check out current Probstein123 eBay auctions here
Consignment Rates
Probstein123 does not have an actual website. This makes it hard to get information about rates and how to actually consign with him. They do have a facebook page where you can find out more information and communicate with them. The rates for consignment with Probstein123 are as follows: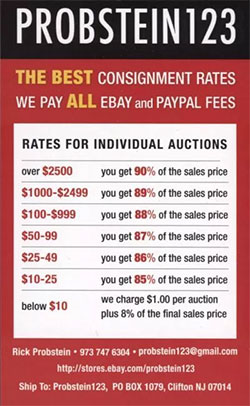 Over $2,500 – you get 90% of the sales price.
Over $1,000-$2,499 – you get 89% of the sales price.
Over $100-$999 – you get 88% of the sales price.
Over $50-$99 – you get 87% of the sales price.
Over $25-$49 – you get 86% of the sales price.
Over $10-$25 – you get 85% of the sales price.
Below $10 – they charge $1.00 per auction plus 8% of the final sales price.
Rates are current as of May 2019. When using Probstein123, you do not have to worry about paying eBay and PayPal fees. That is included in the rates.
Frequently asked questions:
What is Probstein123's Contact and Shipping Information?
Name: Rick Probstein
Phone Number: 973-747-6304
Email: probstein123@gmail.com
eBay Store: Probstein123
Address To Ship Cards To:
Probstein123
PO Box 1079
Clifton, NJ 07014
How Do I Consign with Probstein123?
Surprisingly, there is no public defined process on how to consign with Probstein123. There are no published online forms or websites you can go to in order to start the process. If you are interested in working with them, the first step is to reach out to them via email or phone call.
Should I Consign with Probstein123?
There are many good reasons to look into consigning your sports cards on eBay. One of the main reasons people opt to use consignors is to save money on fees. If you have a high value card it can be more cost effective to consign it. Even with cards worth $50 you will take home more money than if you had to list it yourself and pay eBay/Paypal fees.
Another reason people consign is to conceal their identity. By listing your cards through a consignor you are able to stay anonymous. This can be great if you have a very high value collection and don't want to draw attention to yourself. However, this often leads to people thinking they can get away will shill bidding on their own auctions and also attracts card trimming scammers to list their trimmed cards through consignors.
If you search the web for Probstein123 you will find varying reviews. A lot of people swear by Probstein123 and PWCC as great legit businesses to help you maximize your earnings. However, there are claims that these companies actively take part in shill bidding, don't do anything to stop trimmed/altered cards from being sold, and even have eBay remove negative feedback from their accounts.
Have you used Probstein123 or another eBay consignor? What was your experience? Leave a comment below!