Kenyan Drake's rookie contract is set to expire after this upcoming football season. Already three years into his career, Drake has yet to be given the opportunity to be a true workhorse running back for the Miami Dolphins. Drake has often been an afterthought due to being overshadowed by Jay Ajayi's 2016 breakout year and then fighting for snaps with Damien Williams and then Frank Gore after Ajayi's departure.
The fact remains that, when given the opportunity, Drake shows top 5 NFL RB potential. When Jay Ajayi was traded to the Eagles just before November of 2017, Kenyan Drake took over as RB splitting snaps with Damien Williams. It wasn't until Williams suffered a season ending shoulder injury that Drake was given the opportunity to show his true potential as a workhorse running back though.
When Drake became the full-time starter he balled out. Drake led the league in rushing yards for an entire month and put up several 100+ yard games. However, last year in the 2018 season he was downgraded to sharing snaps again with Frank Gore. Even with limited touches, Drake was able to put up a 1012 yard (rushing + receiving) season.
Why Buy Kenyan Drake Football Cards?
The Miami Dolphins are smack dab in the middle of a full rebuild right now. They've acquired Josh Rosen for pennies and cut almost all of their big contract players. At this moment it's looking like Kenyan Drake will be taking a lion's share of snaps in the 2019 football season. And right now, Kenyan Drake cards are very cheap.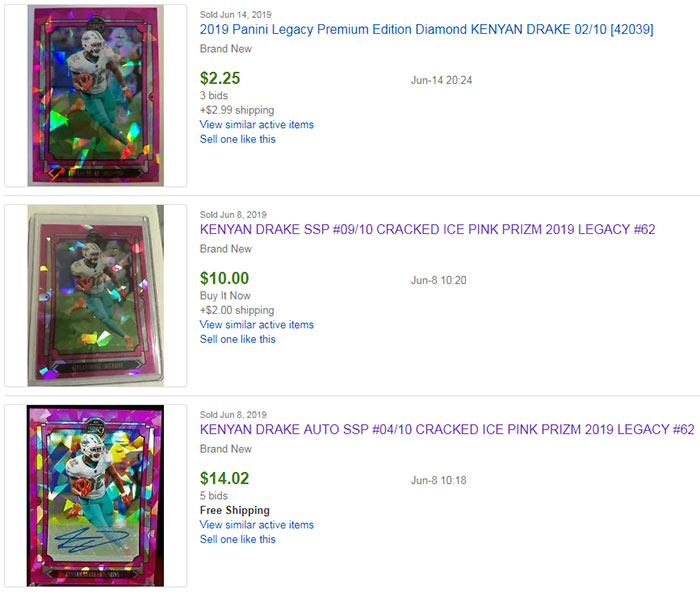 If you are a Dolphins fan, buying Kenyan's cards is a no-brainer. While averaging 4.7 YPC over his career he has been the cause for many exciting big plays, including the Miami Miracle. If you are not a Dolphins fan but looking for a cheap investment card or investment player I think Kenyan Drake is your guy.
Which Kenyan Drake Cards Should I Buy?
This is a loaded question. I wrote an article a few weeks ago about the best Kenyan Drake rookie cards out there right now. But you should really only buy sports cards that interest you the most. I do realize that some people only buy cards to flip them though. In that case, you'd want to stick to the most popular cards that everyone seems to want for any given player.
I personally like to stick with rookie cards for the most part. Silver prizm rookies, cracked ice, contenders, etc. Short printed or autographed cards are usually good ideas too.

What Kenyan Drake cards do you own? Are you going to buy some if you haven't already? Which ones will you get? Leave a comment below!